MMO Tool V1.0.0 Latest Setup
MMO Tool V1.0.0 Latest Setup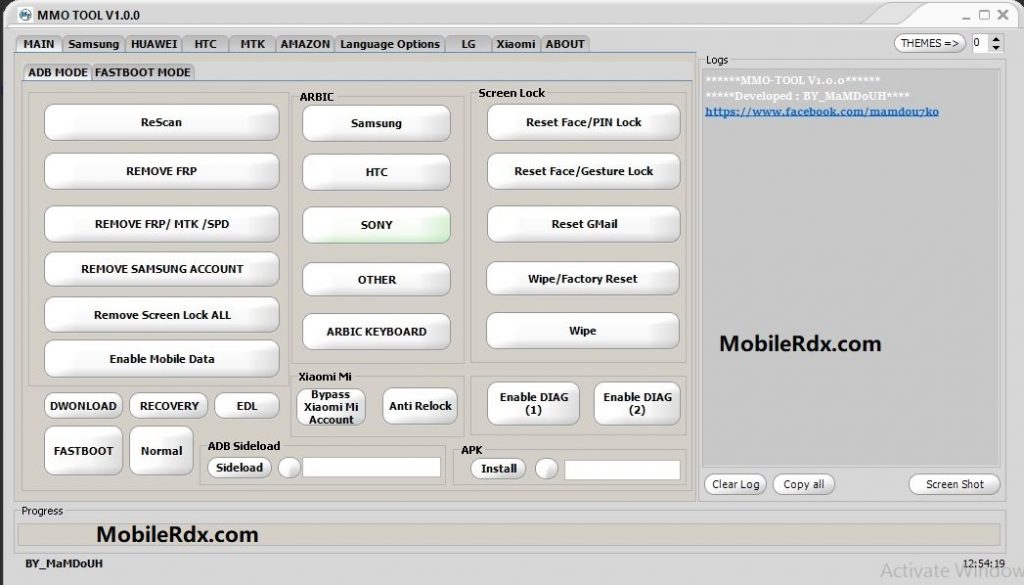 MMO Tool V1.0 is a small application for windows computer which helps you to remove pattern lock user lock screen pin password from Samsung, Huawei,Xiaomi, LG And MTK Devices.
MMO Tool Feature:
MAIN:

Read Full Info
Remove FRP ( General )
Bypass Samsung Account
Enable Mobile Data
Remove Screen Lock
ADD Arbic Samsung , HTC , SONY , OTHER
Add Keyboard
Enable DIAG 1 , 2
APK Install
ADB Sideload
Reboot Option
Fastboot :

Remove FRP SPD
Remove FRP Qualcomm
Remove FRP Xiami
Remove FRP Motorola
Remove FRP Lenovo
Remove FRP HTC
Remove FRP MICROMAX YU YUPHORIA
Flash IMG , ZIP FILES
Samsung :

Remove FRP ADB ALL MODEL
Exynos Remove FRP Download Mode
Qualcomm Remove FRP Download Mode
Reset Screen Locks (ENG/ROOT-BOOT)
Reset Screen Locks (No Root) Some Device ERROR
Remove Security Notice
Enable Mobile Data (No Root) Android Version 7.0.0 UP
Samsung Account SM-N910V ( Spatial Cases )
Bypass Samsuung Account
Enable Diag Mode
Fix S-Health Knox
Disable Factory Mode
Bypass Please Call Me
Hard Reset
Enabling Unknown source
Chang language (Arbic Turkey France Germany)
Enable Hiidden Lang
Reboot (Download Mode Recovery Mode Normal Mode)
SAMSUNG SPRINT ( Beta )
Repair MIPI (NEED ROOT)
Restore ORG IMEI ( Some Device ERROR )
WIPE EFS and Repair EFS
HUAWEI:

Enabling ADB IN MTP MODE ( OLD SECURITY )
Remove FRP ADB
HTC:

Read info
Reboot To other mode
Chang Language To Arbic , Turkey , France , Germany
Enable Language
Add Arbic Keyboard
Remove FRP (ADB Mode )
Reset FRP (Fastboot S-off)
Hard Reset (Fastboot)
Oem Lock & Unlock (Fastboot)
Write super Cid (Fastboots-off)
Write Imei (Fastboots-off)
Erase Partition(Fastboot)
Flash Zip file(Fastboot)
flash Partition boot, recovery , system , userdata, cache , hidden
MTK:

Read Info
Reset Screen Lock
Reset FRP
Flash SUCTION (fastboot)
AMAZON:
Chang Lancher
Remove Amazon Apps
Add Google Play Services
Remove Amazon OTA
Remove Lock Screen ADS
Language Option :
Make Arbic HTC , SONY,SAMSUNG, &OTHER NO ROOT
Add arbic Language Wthout Root
8.X.X
7.X.X
6.X.X
Remove Sprint Apps (No Root)
Remove ATT Apps (No Root)
Remove T-MOBILE Apps (No Root)
Remove VERIZON Apps (No Root)
LG:

Read Info
Reset FRP
Enable DIAG
Unlock Bootloader
Relock Bootloader
Flash Custom Recovery
XIAOMI:
Read Info
Reset FRP
Bypass XIAOMI Account
Ant-Relock (no lock After Connect WIFI )
Remove Cloud APK
Reboot Recovery ,Fastboot , EDL
Readme Once:

Compatible: The above software runs smoothly on Windows XP, Windows Vista, Windows 7, Windows 8, Windows 8.1 and Windows 10 (32 bit and 64 bit).

Take a Backup: If you are going to try the above tool, then please take a backup of your Android Smartphone or Tablet as flashing any recovery or file may brick the device.

Other Tools: If you are searching for other useful tools then follow our Tools Section to download free SM Tools.

Credits: Oppo User Lock Remove Tool is created and distributed by mamdou7ko (developer).