Samsung GT-B7510 Insert Sim Solution Ways
Here's the solution for
Samsung
Galaxy Pro GT-B7510 Insert Sim Card error problems, if the phone unable to detect or read the Sim card inserted to it. This solution may help us on
how to
analyze and troubleshoot if such sim card error problem occurs.
The solution below shows the connection line paths of the Samsung B7510 SIM card connector and which components needs to be check first.
Just see the solution preview below for it shows which track to be check and make jumper.
Samsung GT-B7510 Sim Connecter Jumper,Ways,Problem Solution
Samsung B7510 Sim Card Not Working Ways Repairing Solution
Samsung GT-B7510 Insert sim Solution Jumper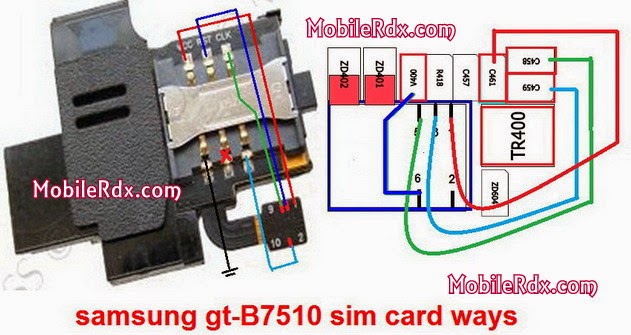 Note: Please note that even though every solution posted on out website is tested by one or more members of our team before posting, but still we do not take any responsibility for any damage it may cause to your cell phones. Use these repairing solutions at your own risk. Thank You 🙂
www.MobileRdx.com