Download Easy Jtag Plus Box Setup V3.7.0.24 [Latest Version]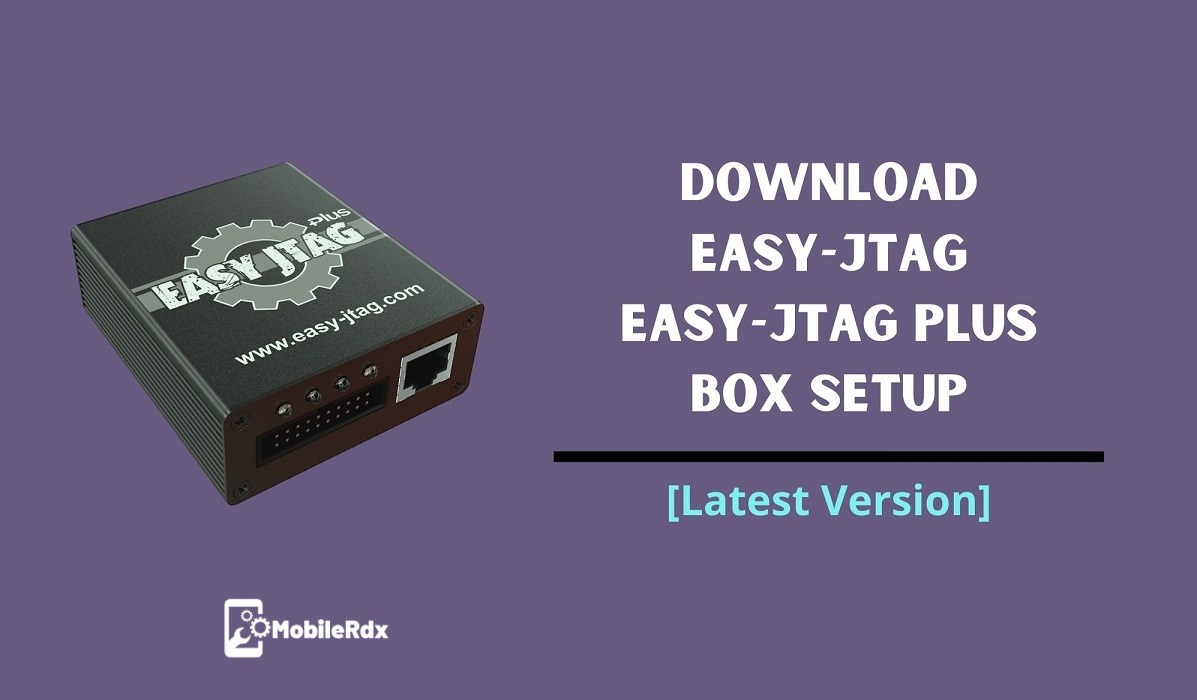 If you are a mobile phone engineer and you have a repair shop, then you must be using paid mobile repair tools easy Jtag Plus Box is a premium Box, with this tool you can flash, unbrick, unlock, reset FRP unlock, and more. EasyJtag Tool is an advanced tool for Memory Programming and Repairing. Easy Jtag Tool is upgraded for EasyJtag Plus which includes supports for NAND, EMMC as well as UFS (New Type of Memory). EasyJtag is considered one of the best Solutions for Jtag and for Fixing Bricked Device due to its Blazing Speed and Unleashed Supported Functions.
Easy Jtag Plus Box is all in one toolbox for intel CPU, Qualcomm, MediaTek, Spreadtrum chipset based phones. Support Samsung, Motorola, Asus, Xiaomi, Oppo, Vivo, Huawei, Nokia, Xiaomi, and other MediaTek Qualcomm based phones. With this tool, you can flash, unbrick device, unlocking Factory reset protection, unlocking phone bootloader, repair IMEI, repair phone NV data, and more features support. The tool is available for sale in the local market and other online markets like Aliexpress, gsm server. If you are looking for Easy Jtag Plus Box latest setup, then you have found the perfect place.
Features Of Easy Jtag Box:
Box Features
One-click device repair
Boot repair
Data recovery
eMMC firmware repair
Partition management
eMMC service operations
SPI memory programming
Socket Features
Combining the top quality materials with the best engineering and elegantly designed hardware for the powerful eMMC Socket.
Made from the high-quality materials
Over 10K cycles of lifetime performance in your service centre
Wide range of eMMC IC supported by BGA153/169, BGA162/186, BGA221, BGA529
High-speed up to 30 MB per second over 8-bit bus.
EMI resistant design, low noise components
Integrated power logic. The additional power source is no more need
Surge protection – smart fuse driven (0.5A threshold)
Software Features
DUMP AND PINOUTS DATABASE
Free access to large dump and pinouts database and constantly updated software tools
EASY JTAG TOOL
The main application allowing you to use most of the product features. It's the most powerful tool of all
EASY JTAG PLUS TOOL
Lightweight software, made especially for mobile phones repair, eMMC memory chips replacement and user data recovery
EASY JTAG SPI FLASHER
Identifying, reading, writing, verifying and erasing flash chips. It is designed to flash BIOS images on mainboards, routers, e.t.c.
EASY JTAG SINGLE PACKAGE REPAIR
Create user-customized repair packages. This is partition layout, pinout, eMMC pre-config and instructions
EASY JTAG API
Access to most useful box functionality to create your own decisions
Download Easy Jtag Plus Box Setup
EasyJtag Classic Suite ⇒ EasyJtag v3.7.0.24.zip
Easy Jtag Plus EMMC Tool ⇒ EasyJtag_EmmcPlus_v1.6.6.0
Easy Jtag Box Driver ⇒ Easy-Jtag Box Driver
What's New In Easy JTAG 3.7.0.21-24 Update
Fixed msvcp140.dll missing error on Windows 7, x86 Arch
Fixed api-ms-win-crt-runtime-l1-1-0.dll error on Windows, x86 Arch
Say sayonara dirty RPMB's
eMMC FFU Added and Updated for following IC chips:
KLM4G1FE3B-B001
KLM8G1GEAC-B031
KLM8G1GEND-B031
KLM8G1GETF-B041
KLM8G1WE4A-A001
KLMAG1JENB-B031
KLMAG1JENB-B041
KLMAG2GE2A-A001
KLMAG2GE2A-A002
KLMAG2GEAC-B001
KLMAG2GEAC-B002
KLMAG2GEAC-B031
KLMAG2GEND-B031
KLMAG2JENB-B041
KLMAG4FE4B-B002
KLMAG4FEJA-A001
KLMAG4FEJA-A002
KLMBG2JENB-B041
KLMBG4GE2A-A001
KLMBG4GEAC-B031
KLMBG4GEND-B031
KLMBG4WEBC-B031
KLMBG8FE4B-B001
KLMCG4JETD-B041
KLMCG8GE4A-A001
KLMCG8GEAC-B001
KLMCG8GEND-B031
KM3H6001CA-B515
KMDH6001DM-B422
KMF5X0005A-A210
KMFE10012M-B214
KMFN10012A-B214
KMFN10012M-B214
KMK8X000VM-B412
KMK8X000VM-B412
KML5U000HM-B505
KML7U000HM-B505
KML7U000HM-B505
KMN9W000RM-B205
KMQ310006A-B419
KMQ31000SM-B417
KMQ310013M-B419
KMQ310013M-B419
KMQ7X000SA-B315
KMQ8X000SA-B414
KMQE10013M-B318
KMQE60006M-B318
KMQE60013M-B318
KMQN10006M-B318
KMQN1000SM-B316
KMQN1000SM-B316
KMQN1006B-B318
KMQNW000SM-B316
KMR310001M-B611
KMR3100BA-B614
KMR4Z0001A-B803
KMR8X0001M-B608
KMV2W000LM-B506
KMV3W000LM-B310
eMMC 5.1 Factory Firmware Update For
KLM8G2YE4C-C001
KLMBG2JETD-B041
KLMCG2KETM-B041
KLMCG2UCTA-B041
KMDH6001DA-B422
KMGD6001BM-B421
KMJ5X000WM-B413
KMK5U000VM-B309
KMK8X000VM-B412
KMKYL000VM-B603
KMNJS000ZM-B205
KMQ310013M-B419
KMQE60013M-B318
KMDD60018M-B320
KMDD60018M_B320
KMDP60018M_B425
KMFE60012M-B214
KMFN10012M-B214
KMFN60012M_FN62
KMFN60012M_FN62
KMFNX0012M-B214
KMGD6001BM-B421
KMQ310013B-B419
KMQ72000SM-B316
KMQ820013M-B419
KMQX10013M-B419
KMR4Z0001A-B803
KMR820001M-B609
KMRC10014M-B809
KMRE1000BM-B512
KMRNW0001M-B509
UFS Field Firmware Update added
MICRON-128GB-UFS-MT
SAMSUNG-KLUDG4U1EA-B0C1
SAMSUNG-KLUDG8V1EE-B0C1
SAMSUNG-KM2B8001CM-BB01
SAMSUNG-KM5V7001DM-B621
SAMSUNG-KM8B8001JM-BC01
SAMSUNG-KM8F8001JM-B813
SAMSUNG-KM8F8001MM-B813
SAMSUNG-KM8V7001JM-B810
SAMSUNG-KM8V8001JM-B813
SKhynix-H28S7Q302BMR_A002
SKhynix-H28S8Q302CMR
SKhynix-H28U62301AMR_D003
SKhynix-H28U74303AMR_D003
SKhynix-H9HQ16AECMMDAR
SKhynix-H9HQ16AFAMMDAR
SKhynix-H9HQ53ACPMMDAR
SKhynix-H9HQ53AECMMDAR
TOSHIBA-THGAF8G9T43BAIRB
Added CSD patch wile uploading new firmware
Added new eMMC FFU files:
KLMBG4WEBD-B031
KLMCG2UCTA-B041
KLMCG8WEBD-B031
KMDP6001DA-B425
KMGP6001BM-B514
KMRX60014M-B614
KLM4G1YE4C-B001
KMF720012M-F722
KMFE60012M-B214
KMR4Z0001A-B803
KMRNW0001M-B503
Steps to Install Easy Jtag Plus Box Setup
First of all, download the Easy Jtag Plus Box version on your PC.
Now, extract the zip file using WinRAR tool.
Open the extracted folder > Run the setup application (exe)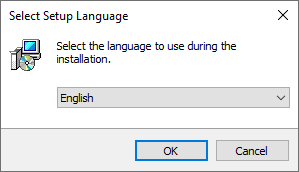 Tap on accept the agreement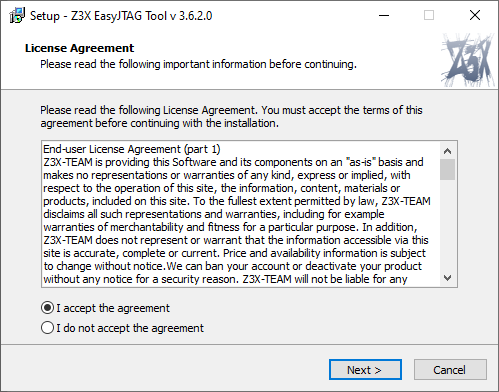 Tap Next button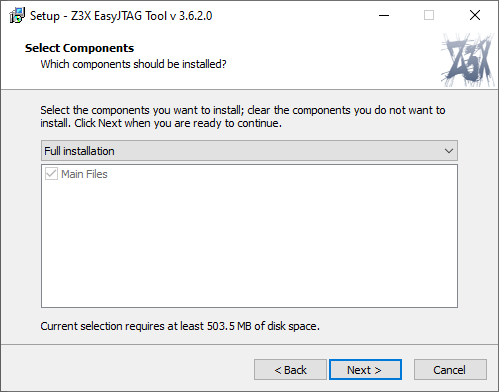 Click on Next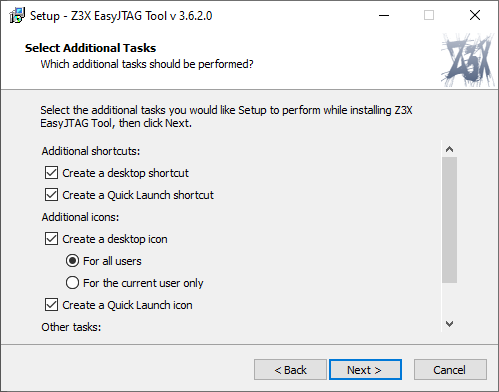 Click on Install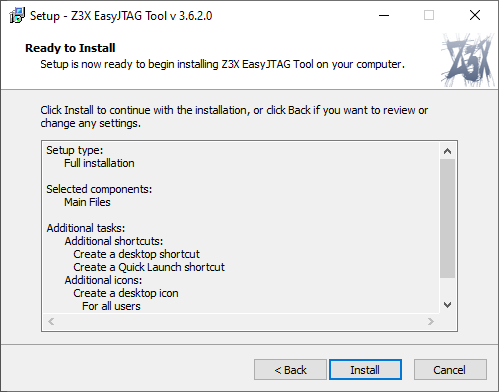 Click on Finish to finalize the installation.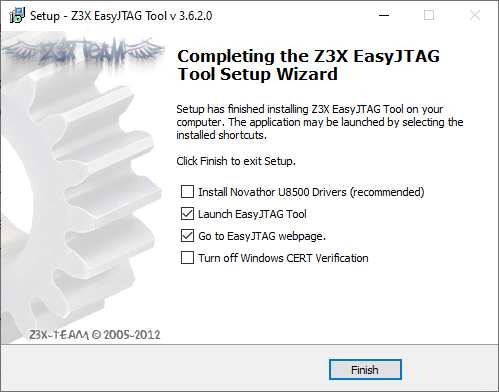 Finally, you will get a launcher on your desktop. Run as an administrator and start using it.
That's it, guys. We hope you've found this guide useful. For any queries, feel free to ask in the comment section below.