Download TFT Unlocker Digital Tool V3.1.1.1 [Latest Version]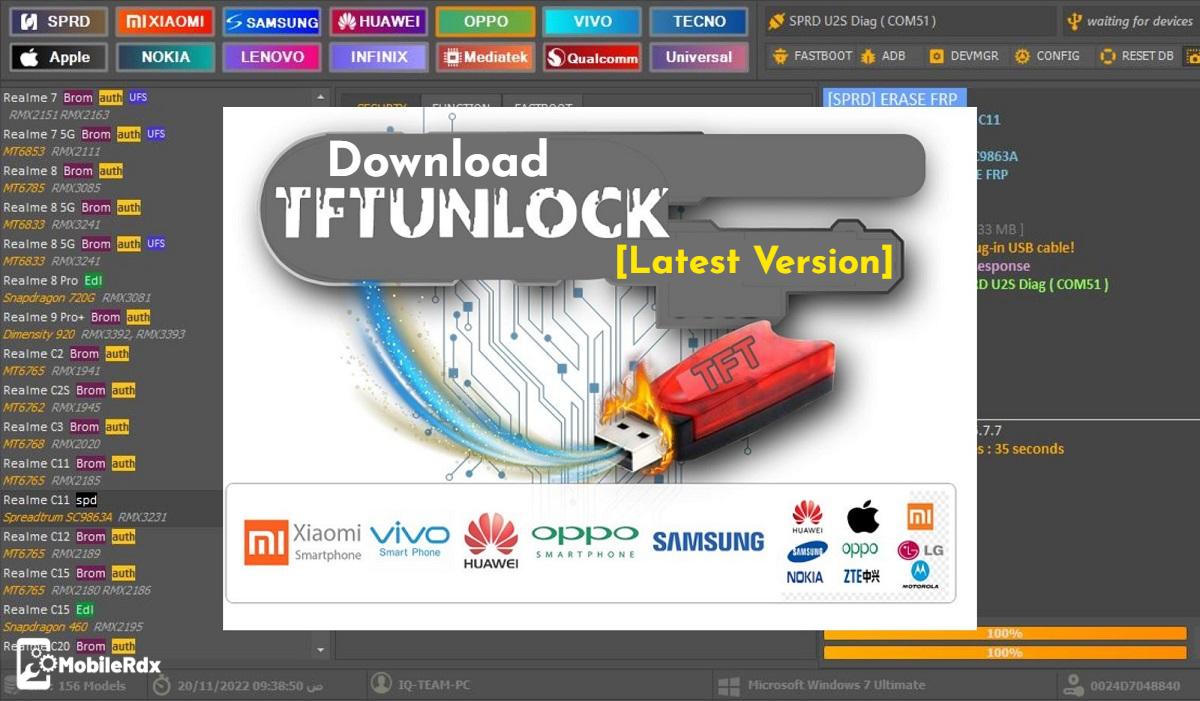 Once again we are here with another new mobile repairing software and that is TFT Unlocker Digital V3.1.1.1 The TFT Unlocker Tool is a multipurpose service software that can be used to repair more than 100 models with many modules and functions.
With the help of this tool, anyone can fix software-related issues of Qualcomm, MTK, MAIN, and SPRD, etc. If you have the correct module of TFT Unlocker tool then it will be very easy to unbrick any android device.
As we already told you, the TFT Unlocker Digital tool comes with different modules according to the chipset of the device. So, here in the guide, we are adding the latest version of the MTK TFT Unlockertool module. Simply download TFT Unlocker setup, activate it, and start to repair your device with minimal technical knowledge.
Probably, you may know that each and every Android Smartphone comes with a different chipset (MTK, QUALCOMM & SPD). Because of this, you need to use the supportable tool to fix software issues with your phone.
What Is TFT Unlocker Digital Tool And MTK Module
If you are new and never heard about the TFT Unlocker Digital tool then you should know that it's a multi-utility tool. Officially, it's only available for windows pc that allows users to repair IMEI, new software installation, FRP unlocks and phone unlocking, etc.
At the time of publishing this post, it supports more than 100 different android Smartphone brands. If you have the correct module of this software, you are free to fix almost all software-related issues within few minutes.
Supported Devices:
Xiaomi

OPPO

Huawei

VIVO

Qualcomm

Nokia

Samsung

Lenovo

Infinix

Techno

Universal
Smart Functions Of TFT Unlocker Digital Tool
Read Flash
Write Flash
Repair IMEI
Direct unlock
Disable screen locks
Format (Factory reset)
Xiaomi account remove
Unlock bootloader
Reset FRP
Huawei ID Remove
Reset / Wipe security
Read and write QCN
Partition Manager
Read Info
Reset FRP UART eMMC
Reset FRP UART UFS
Reset FRP UART Download Mode
Root
Wipe EFS
Write Certificate
Demo Remove
Read Dump
Write Dump
Read Bootloader Code
Repair Bluetooth Address
Repair Wi-Fi MAC
Repair S/N
Repair Board S/N
Repair Vendor Code
Repair Country Code
OPPO ID Remove
What's New In the Latest TFT Unlocker Digital Update
TFTUnlock-2023-3.1.1.1
Updated photos Test-point For TFTUnlock
Samsung
[MTK] Added ERASE FRP A10S A03S A02 A22 A12 A01 CORE
No need TestPoinT And VOL + And VOL-Just Insert cable!
[MTK] Added FORCE BROM
[MTK] Added CRASH BROM/ PRELOADER + ERASE FRP
[QC] Fixed ERASE FRP A11 A02S M11 M02S A01 A70 A71
[QC] Test-Point Connect Reset MDM | Erase FRP
Apple
Tap Function
[Added ] Reboot iDevice
[Added ] Shutdown iDevice
[Added ] Enter Recovey Mode
[Added ] [REC+DFU] READ HW INFO
[Added ] [REC+DFU] Reboot iDevice Normal Mode (Exit Recovery DFU)
Tap DIAG [Purple] [Added ] WRITE Serial/bluetooth/wifi/Ethernet
[Added ] [DIAG] READ SN INFO
[Added ] [DIAG] READ HW INFO
[Added ] [DIAG] UNLOCK WIFI
[Added ] [DIAG] READ SYSINFO
Oppo
[QC] Added SafeFormat [Realme7i/Realme_X2Pro/Realme_C15/Realme_6PRO/Oppo A33] [QC] Added FORMAT / FS Old
[QC] Added FORMAT / FS New
[QC] Added RESET EFS
[A11s/A32/A33/A37/A51w/A53/A53s/A57/A73/A74/A76/A95/A96/F1/F3p/F17/F19/F19s/K9s/R9s/RENO4_5G/RENO5_5G/RENO6PRO5G/RENO7/RENO8/RENOX10Z]
Vivo
[QC] Added SafeFormat [V5 PLUS/V5/X9Plus/Y55s/Y65/Y66/Y73/Y75s/Y85/Y79/Y93/V21E/V20/Y50/Y31s/Y20S/Y11/Y51]
Xiaomi
Tap Meta
[META] Added REBOOT TO META MODE
Tap Function
[ADB] ENABLE DIAG MIUI 12-13 Without Root
Tap RECOVERY
[SIDELOAD] INSTALL MAGISK ROOT
Tap Fastboot
[FB] RESET EFS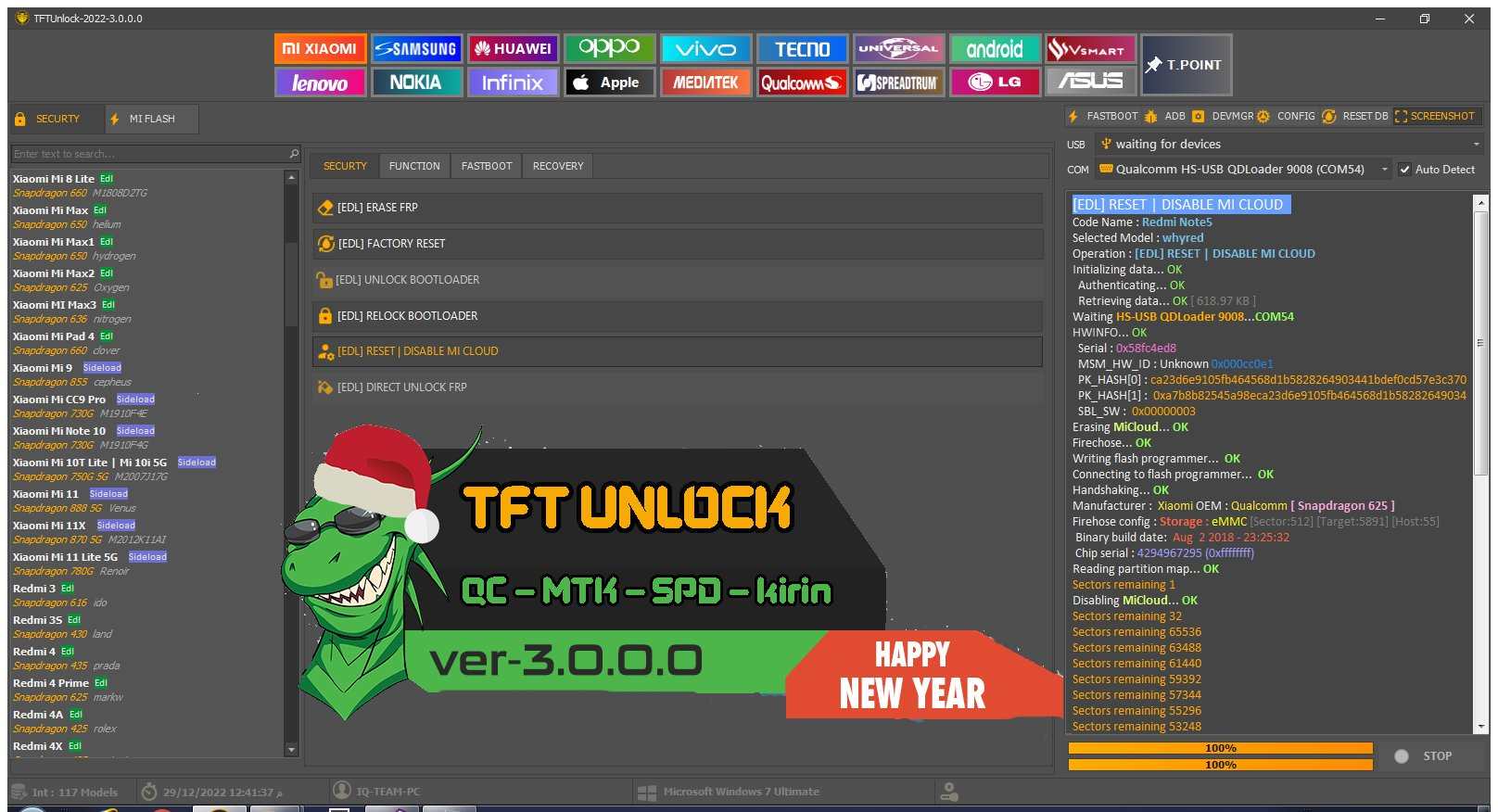 Download TFT Unlocker Digital Tool Latest Version
Here I share all about TFT Unlocker Digital Tool V3.0.0.0 and how you can easily set up and use it on your Windows computer. However, the latest v3 version now added too many new ways to unlock FRP lock and fix some bugs for better uses.
File Name: TFT UNLOCK v3.1.1.1.zip
Software Password = TFT
WinRar Password = TFT
Size: 260 MB
Compatibility: Windows 10/7/8/7
System architecture supported: 32-bit and 64-bit
TFT_UNLOCKTOOL_V3.1.1.1
How to Use TFT Unlocker Digital Tool
Download & unzip the TFT Unlock Tool
Disable Windows Defender or any other windows Antivirus software
Run TFTUnlock.exe as Admin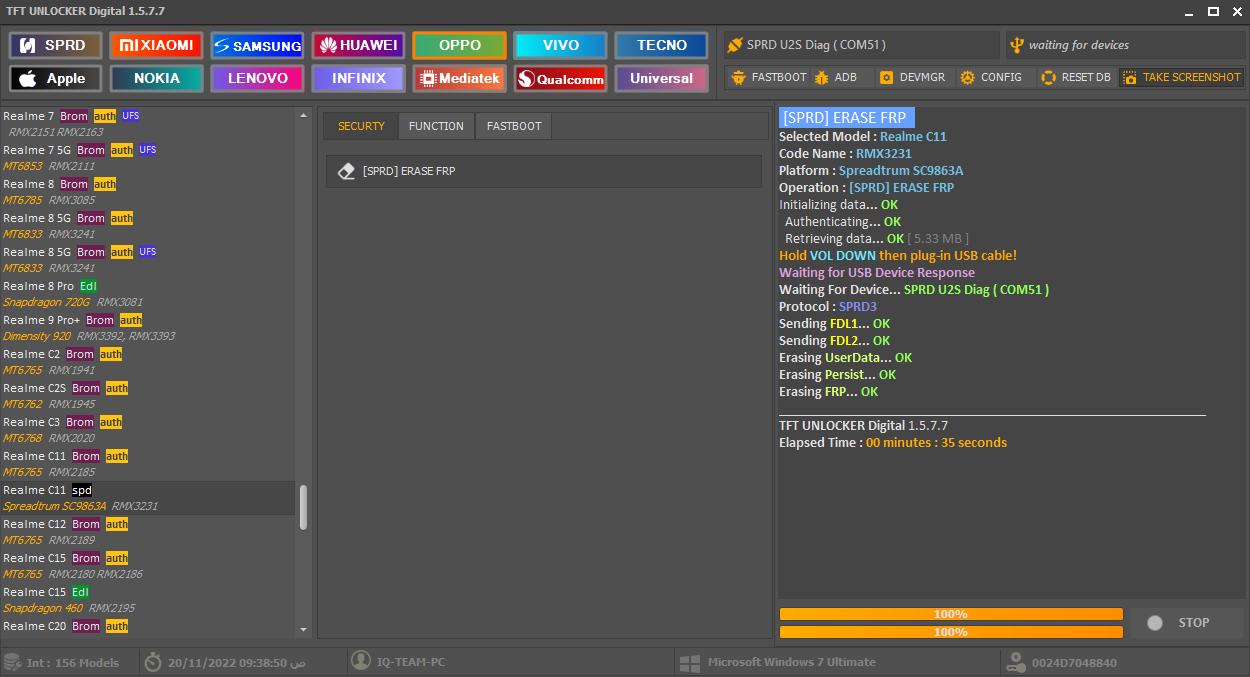 Now Power off your Android phone
Connect it to the PC