Nokia 208 Display Ways Light Solution Jumper
Information about
how to
repair the damage to the display screen on the
Nokia
208. This guide also support for blank white screen, the screen does not appear, the problem on the screen, and tricks on how to jumper socket path screen. see the image below to complete damage to the screen of your
Nokia
208.
Pictured belove is a line LCD on Nokia 208. if one of them is lost then please make a jumper. Such damage usually causes a white screen and no display at all. good luck
Hardware Solution:
Nokia 208 Display Light Ways Solution
Nokia 208 Lcd Screen Problem Jumper Repair
Nokia 208 Display Line Track Ways Not Working Solution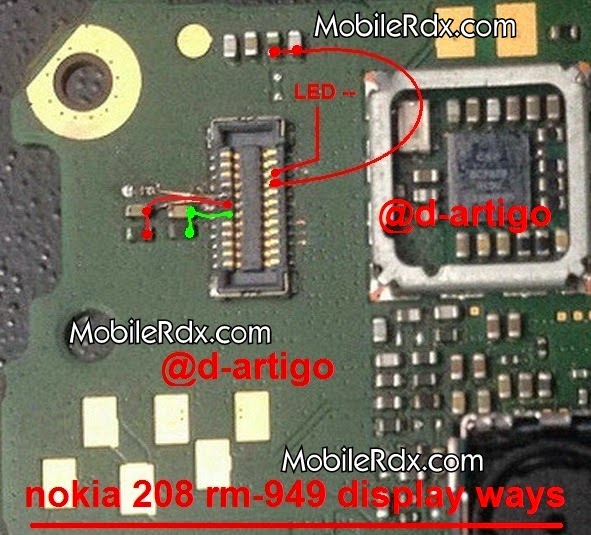 Equipment Required
Fine wires
Tin.
Solder.
Tester.
Scissors
How to Make a Jumper in the Socket Display
Prepare a cable smooth and adjust the length that we will connect its tracks
Heat Tin with solder for attaching fine wires so that it will closely united.
Use a voltage tester to measure the jumper cables.
Tips and Warning
Make sure the jumper cables are connected properly so that it can deliver a good flow.
Make sure that the jumper cables are not connected directly with the other jumper cable.
www.MobileRdx.com