Download Miracle Huawei Tool v2.12 – Released on 28th Feb 2019
Download Miracle Huawei Tool v2.12 – Released on 28th Feb 2019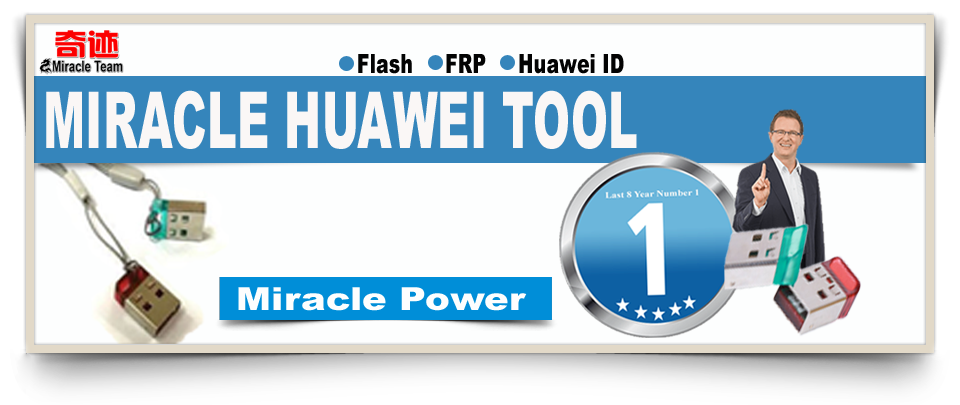 Miracle Box Huawei Tool is a small application for windows pc for Miracle Box users it allows you to Reset Huawei FRP, Reset Google FRP, Unlock Boot Loader, Reset Pattern Lock.
Miracle Huawei Tool 2.12
[+] For use Miracle Huawei Tool Must Buy Miracle Huawei Pack
# Miracle Moto Tool Free with Huawei Tool
# Miracle eMMC Tool Free with Huawei Tool
# Miracle Vivo Tool Free with Huawei Tool
[+] Can Activate on Miracle FRP Dongle.
Updates News (World's First)
Release Note Miracle Huawwei Tool v2.12
1. Add FRP Dongle Support and New Firmware Support.
2. Add Support Flash Board Firmware for dead Devices (New XML Format).
3. Improve update.app Extraction.
4. Add Hisilicon Repair Pcb Serial/Serial/Bluetooth/WIFI (beta).
5. Add Remove Screen Locks Without Dataloss with update.app Package.
6. Add Bootloader, FRP Unlock, Huawei ID Unlock 30+ Model Added.
Huawei Enjoy 9
Huawei Y7 2019
Huawei Y7 Prime 2019
Huawei Y7 Pro 2019
Huawei Honor 8C
Huawei Honor Changwan 8C
Huawei Enjoy 9
DUB-AL00
DUB-AL20
DUB-TL00
Huawei Y7 2019
DUB-LX1
Y7 Prime 2019
DUB-L21
Huawei Y7 Pro 2019
DUB-LX2
DUB-L22
Huawei Honor 8C
BKK-LX1
BKK-L21
Huawei Honor Changwan 8C
BKK-AL10
BKK-TL00
BKK-AL00
Huawei G Elite Plus
SLA-L03
P9 lite mini
SLA-L02
SLA-L22
SLA-L23
Huawei Honor 8X Max
ARE-AL00
Huawei Y Max
ARS-LX2
ARS-L22

Readme:

Compatible: The above software runs smoothly on Windows XP, Windows Vista, Windows 7, Windows 8, Windows 8.1 and Windows 10 (32 bit and 64 bit).

Other Tools: If you are searching for other useful tools then follow our Tools Section to download free GSM Tools.

Credits: Miracle Huawei Tool Pack is created and distributed by Miracle BoxTeam (developer). So, full credits goes to Miracle Box Team (developer) for sharing the tool for free.