Download OMH Aio Driver Installer V3
Download OMH Aio Driver Installer V3
OMH Aio Driver Installer V3 (ALL IN ONE ) Download is not so hard now because the software is available on various websites. You also find them free. In order to connect your Android device to your PC, you need the USB driver. When you install the USB driver, you can transfer data and files between your computer and Android device.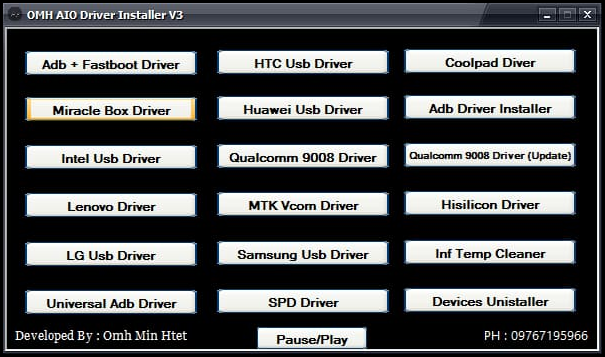 This content details the universal OMH Aio Driver Installer V3 USB drivers that work on all models and variants of any mobile phone or tablet. However, this is the latest version of OMH Aio Driver Installer V3 USB Drivers and with time, we'll keep you guys updated with every recent version of OMH Aio Driver Installer V3 USB Drivers available.
Install the USB drivers on your computer and any type of mobile device will be recognized by your computer. Hope this helps? If you got any problem with your devices, please do let us know via comment section.
A USB driver is the program file that allows a device to communicate with a computer to transfer files and data. The USB driver is needed for the devices such as Keyboards, Smartphone, Flash drivers, mouse, MP3 players and some other external devices. The software of a driver is essential because if the driver is not installed properly, the device will not work as well. You will find some files from the manufacturer for installation.
Download OMH Aio Driver Installer V3
Readme Once:

Compatible: The above software runs smoothly on Windows XP, Windows Vista, Windows 7, Windows 8, Windows 8.1 and Windows 10 (32 bit and 64 bit).

Take a Backup: If you are going to try the above tool, then please take a backup of your Android Smartphone or Tablet as flashing any recovery or file may brick the device.

Other Tools: If you are searching for other useful tools then follow our Tools Section to download free GSM Tools.

Credits: OMH AIO Driver Installer V3 is created and distributed by OMH Min Htet (developer). So, full credits goes to OMH Min Htet (developer) for sharing the tool for free.