Samsung Galaxy J7 J701F Speaker And Mic Problem Repair Solution
Samsung Galaxy J7 J701F Speaker And Mic Problem Repair Solution
This solution below shows the connection line paths of the Samsung Galaxy J7 J701F hands-free speaker and mic for easy troubleshooting and repair. But to fix a speaker failure, you may first check the speaker using a multimeter to easily confirm if it's still working or already damaged. If the speaker is okay, clean the speaker terminal contact pads and locate the components shown in the solution below, then do a check and replacement procedure.
If the speaker is working fine and the terminal contact pads seem okay but still there is no sounds output over it. You may then proceed to check certain components on the Samsung Galaxy J7 J701F PCB board that where the speaker is being connected.
Mic Problems
MIC not working while making or receiving calls (Only Working with Sound Recorder)
MIC not working at all.
Captures Low Sound.
Distortion in Voice
Speaker Problems
No sound in speaker.
Low Sound in Speaker.
Distorted sound in speaker.
Hardware Solution Ringer Ways: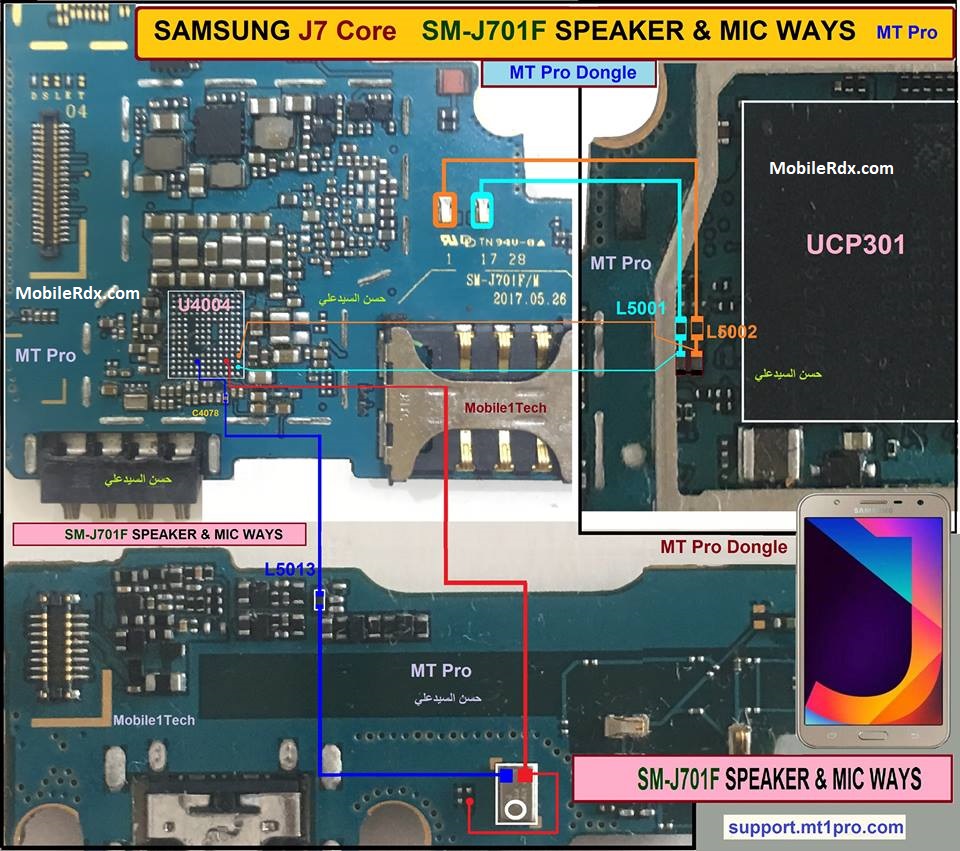 check ringers point after opening the mobile.if ringers point is not working and its value is not right then replace it with new ringer.problem will be solved.if the problem will not be solved then check ringers point on board.If their value is not right then check parts and components with the there path from above diagram.If some path is missing then apply jumper.If any part and components are not working replace it with a new one.
Hints to fix Samsung Galaxy J7 J701F Speaker or Ringer Problem Repair Solution:
Check the speaker assembly for possible damaged and or misaligned. Use a multimeter to check it (How to use Multimeter), replace if already busted.
If the speaker is okay, check and clean the speaker terminal contact pads. Corrosion might weaken and loosen the connection.
Trace the speaker+ and speaker- connection to each certain components where it is being connected.
Check and replace the filter capacitor and resistor components.
Check and ensure first that speaker is working or already tried installing a replacement spare on.
If the speakers were okay, you may then proceed to check those components showed on the solution above.
There are filter coils connected on the circuit, you may first check this component