Download Android Fastboot Reset Tool V2.0 Latest Version
Download Android Fastboot Reset Tool V2.0 Latest Version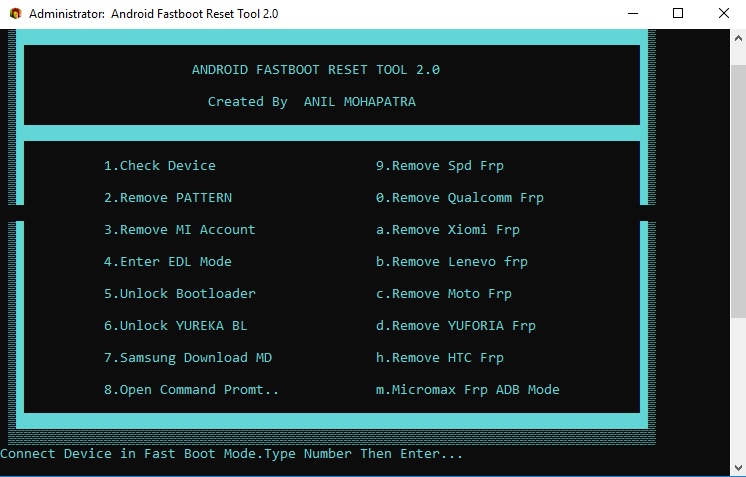 Android Fastboot Reset Tool is the highly useful tool for Android users. It offers a number of features which includes bypassing FRP via Fastboot Mode, Remove Mi Account, Remove Pattern, Unlock Bootloader and many more. Android Fastboot Reset Tool is updated to version 2.0 with more features and here on this page, you can download Android Fastboot Reset Tool 1.2 by Tech Anil.
Features Of Android Fastboot Reset Tool:
Check Devices
Remove Pattern
Remove MI Account
Enter EDL Mode
Unlock Bootloader
Unlock Yureka BL
Samsung Download Mode
Open Command Promot.
Remove SPD FRP
REmove Qualcomm FRP.
Remove Xiaomi FRP
Remove LEnovo FRP
Remove Moto FRP
Remove Yuforia FRP
Remove HTC FRP.
Micromaxx FRP ADB Mode.
What is Android Fastboot Reset Tool?
Basically, Android Fastboot Reset Tool is a bypassing tool for Android Smartphones. This Android Fastboot reset 2.0 Tool functions with virtually every android mobile phone. Plus it supports many Android Smart-phones including Lava Iris Smartphone, Samsung Smartphone, Lava Smartphone.
Now you will download Android Fastboot reset tool computer software newest version with no price. It works for windows pc system only.
The newest version of Android FastBoot reset Tool is now released, and you may download it by going to the downloads area.
Reasons to Download Android Fastboot reset tool:
Applying this technique, you might eliminate Android FRP with no problems, then use this android fastboot reset tool to take out the routine lock or lock from the Android Phone or Tablet.
With the help of Android Fastboot Reset Tool, you can easily eliminate or remove any kind of phone lock from the home screen.
Not only screen lock but also you can eliminate MI Account or Google Account from a locked device.
The additional feature of Android Fastboot Tool is that you can unlock the bootloader of any Android smartphone utilizing the advantage of Android Fastboot Reset Tool.
Also, you can boot your smartphone into the EDL mode using the Android Fastboot Reset Tool.
Download Android Fastboot Reset Tool v2.0
Name: Android Fastboot Reset Tool v2.0
File Sze:1MB
How to Use Android Fastboot Reset Tool v2.0

Step1: Download Android Fastboot Reset Tool v2.0 from below given link.
Step2: Download And install Android Fastboot Reset Tool v2.0
Step3: Now open the folder and click on Android Fastboot Reset Tool V12.0.exe.
Step4: Now turn off your phone and open it in fastboot mode by pressing power button + volume down button simultaneously.
Step5: Connect your phone to your computer using the USB cable.
Step6: Now type the number of FRP unlock option according to your phone brand company.
Step7: hit enter button to begin unlocking process.
Step8: After completion, remove your device and turn it On.
By above simple 8 steps, you can easily remove FRP lock/pattern lock on your phone by using Android Fastboot Reset Tool V2.0
I hope this article helped you in unlocking your phone's FRP and other related problem. For more such useful articles don't forget to visit again.
Warning – MobileRdx.com is not responsible for any damage that occurs to your phone during flashing process.