Redmi 7 LCD Backlight Problem Solution | Display Light Ways
How to deal with Redmi 7 LCD backlight ways or display light problem-related issues of the smartphone as using smartphones comes with loads of backdrops in the long run while we strive to get the best phone user experience we can possibly desire! Maintaining a lasting phone screen display.
The solution in this post is for Redmi 7 Backlight Way and Display light problem jumper solution full LCD ways display connection line paths in case you are going to troubleshoot display problem such blank display, dark screen display, white screen (with tones), No backlight LED that is resulted from due to wet damaged or accidentally dropped issues by the users.
What Is An Redmi 7 LCD or Backlight?
To start with, an LCD is the digital display interface of your phone, it is the interactive part where you see what goes on as you operate or tap on an icon, watch a video, play music or games, etc. When the LCD (liquid crystal display) is faulty or damaged, you one won't be able to enjoy it as before. This is where the LCD backlight comes in, the backlight is a series of LEDs (light-emitting diodes) well arranged and suited in the screen layers to give illumination to the LCD screen.
Redmi 7 LCD Backlight Problem Solution
To fix the dark screen Redmi 7 backlight problem, you may first try to replace or install a new Display screen module, to easily confirm if the LCD's backlight LED's were still working or already damaged. You can also check the LED's using the multimeter if you can manage without damaging the LCD flex connector. If the newly installed LCD still shows the same problem and the LED light doesn't light up, refer to the solution below and locate the highlighted components on the PCB board.
Redmi 7 Backlight problems that you might encounter:
Problems
White Display
No Display
Lines on Display
Low Light on Display
No Backlight
Redmi 7 Backlight Ways LCD Light Problem Jumper Solution: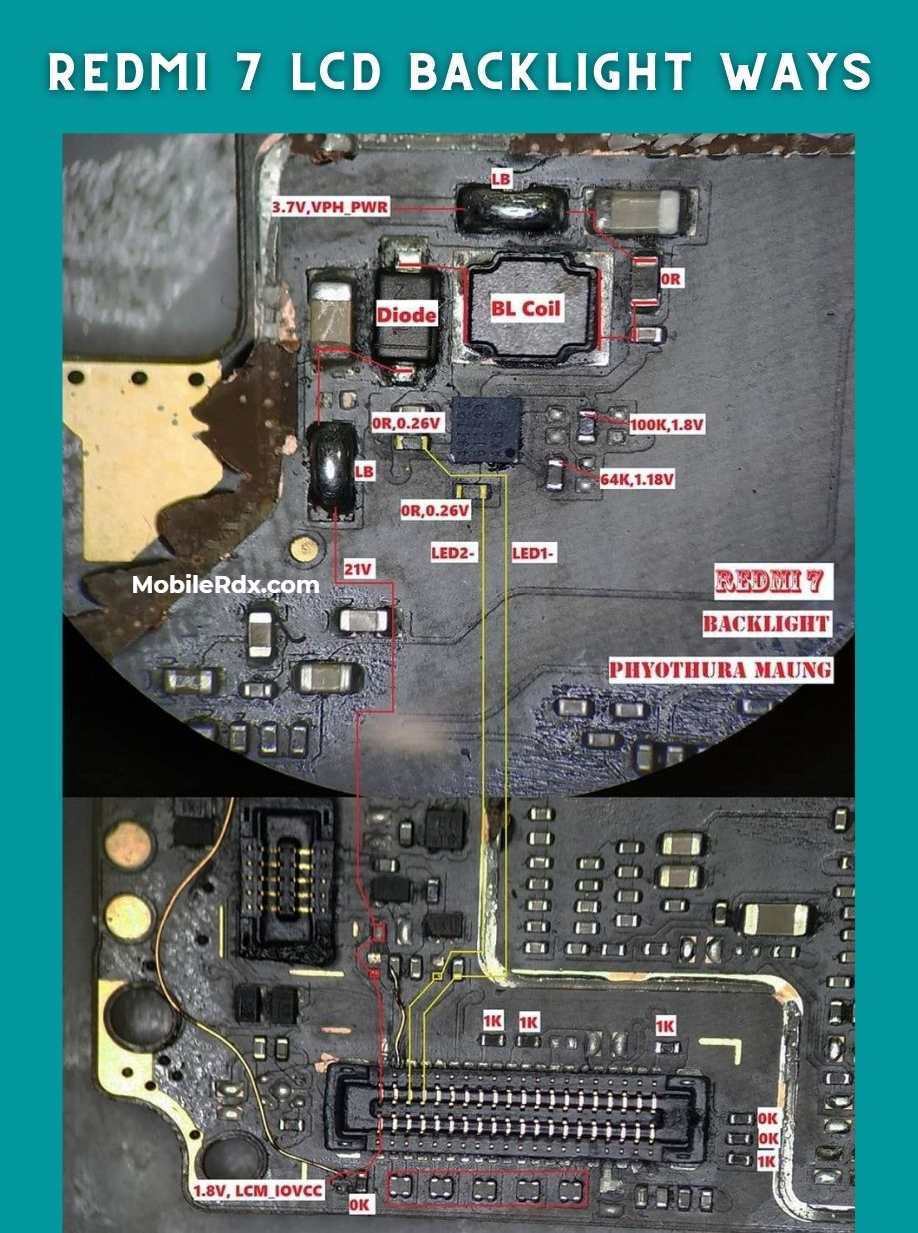 Check the LCD for possible damaged, cracked, or broken. Replace if necessary.
Check the device firmware, and do a self-test and calibration method. update or flash the firmware.
Check the LCD pin connector for possible damaged. Clean, re-solder or replace if necessary.
Now Check Continuity between the Display connector to the resistor compounds. if any of then is track missing then make a jumper.
If the above procedures don't fix the problem the possible faulty is the main engine IC. Try to re-heater rework it.
How To Repair Redmi 7 Backlight Problem?
First, you need to confirm from the mobile setting menu. If the display lights setting is active and there is no issue of disabled lights function. You need to repair this issue (Dark display) display light is not working from the hardware repairing or troubleshooting.
Clean both connectors at the motherboard and display strip links pinpoint.
After cleaning try to test your issue by power on your cell phone.
The problem is coming from missing light pinpoints commonly. Try to make direct same as the image diagram above.
If the light current is showing at the connector pinpoints. Test and replace the display lights LED.
If there is no current at the connector pins. Try to clean or test the light controller chip.
For the faulted display lights from the front panel, You need to fix it by repairing the lights section.
If any corrosion or carbon and water damage or any component are damaged, then the motherboard should be replaced carefully. If a track is lost then the jumper is applied and if any part is damaged or broken, replace it with the new one.
More information about this problem and solutions for new tips and tricks are going to this page, if there are new updates, there will be updates. Below are some related posts, you can read more about mobile phones.