Repair Samsung J3 J320F Won't Charge Problem | Charging Ways
A solution in this post is for How to Repair Samsung J3 J320F charging ways not charging problem repair solution, and give you suggestions on resolving this problem with your phone. For example, you will be unable to charge your phones using the phone's direct USB chargers, the universal charger usage becomes impossible when you use a phone powered by an inbuilt battery.
When a premium device like the Samsung J3 J320F won't charge, Charging ways solution the problem can be with the hardware and its accessories, or it could be just a minor issue with the firmware. As an owner, you should do some troubleshooting procedures to determine what the issue is and hopefully be able to fix it.
You are probably enjoying the Samsung J3 J320F many powerful features of this high-end smartphone. One of the nicest features of the Samsung J3 J320F is its battery, which is either a 2600 mAh battery depending on the exact model. This gives the phone a usage time of between 27 and 31 hours, and a standby time of 1.5 to 2.0 days (depending on app usage, network signal strength, use of WiFi, and many other factors.) However, some users have complained that their Samsung J3 does not charge quickly enough.
Hardware Reasons for Samsung J3 J320F Charging Problem
There are four basic hardware-related reasons that your Samsung J3 J320F could be charging slowly, and I will explain each of them in turn and in order of increasing probability. The issue could be:
There is dirt, dust, or debris lodged in the charging port.
The power adapter is damaged or faulty.
The USB cable is no longer working properly.
You are using the wrong power adapter for your phone, or a weak USB port.
Samsung J3 J320F Charging Ways – Not Charging Problem Solution
In the below image we draw the Samsung J3 J320F charging ways and its jumper check continuity using a multimeter if any track damage makes a jumper on the Samsung J3 J320F motherboard.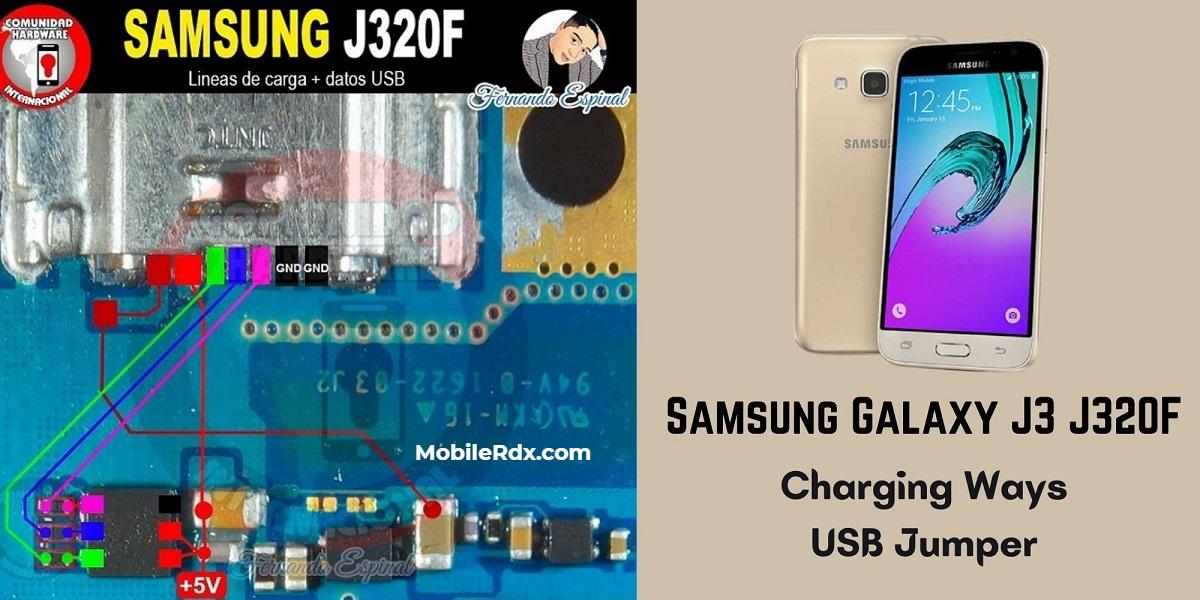 First, open the mobile
Then clean the section of the charging connector of the mobile motherboard
Then remove the old charging connector and add a new connector
After doing this, but the mobile phone in charge once, After doing these things, if the mobile is solved then fitting the mobile, If the problem is not solved after doing these, then I have given a picture below to do the job.
How To Repair Samsung J3 J320F Won't Charge Problem:
Samsung J3 J320F Charging Ways Charging Jumper Solution Slow Or Fake Charging Solution
After the mobile phone disassembles, you will need to take some steps shown in the diagram above.
Check the Charging jack and its points do they have good value if yes, then change the changer and check it and if the motherboard does not see the accurate value with the charging points, then after the dissatisfaction of the mobile phone you get something shown in the above diagram You have to take steps.
Check the Charging jack and its points are good values if yes, then change the changer and check it and if the motherboard does not see the accurate value with charging points, then you will see all the parts and tracks given in the diagram of Samsung J3 J320F Are to Check.
Below are the most common causes of why you Samsung J3 J320F have trouble charging, and other problems concerning the battery like the grey battery issue:
Shorted/faulty diode
Shorted/faulty capacitors
faulty resistors
Bad/damaged charging coil
Shorted/faulty IC
Bad USB Port
Partial contact
If any corrosion or carbon and water damage or any component are damaged, then the motherboard should be replaced carefully. If a track is lost then the jumper is applied and if any part is damaged or broken, replace it with the new one.
More information about this problem and solutions for new tips and tricks are going to this page, if there are new updates, there will be updates. Below are some related posts, you can read more about mobile phones.