Display light problem in an Nokia 603 normally occurs when your phone has encountered any kind of water damage. In such a condition your phone works normally, but it becomes really very hard for you to perform different functions on your phone.

Problems
Display light not working.
Display light is dim.
Sometimes display light works and sometimes it does not.
Reasons of Problems
Phone might be water damaged.
Dry soldering of display connector pins.
Diode might be faulty.
Nokia 603 screen might be faulty.
Workaround
When it comes to the workaround of this problem, the only thing that you can do is to check your phone's brightness settings, which I guess you have already tried; else the only way to solve this problem is the hardware solution.
Tools Required
Star screw driver.
Plastic separation tool for separating Nokia 603 Display LCD screen from the body.
Heat gun.
Soldering gun.
Multi meter.
Hardware Solution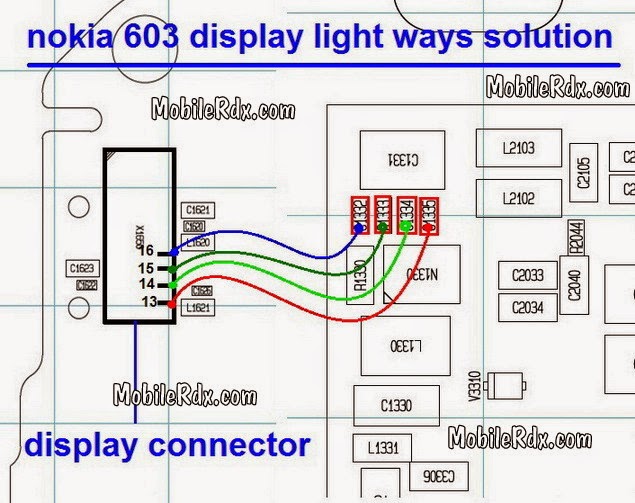 Nokia 603 Display Light Ways
Nokia 603 Lcd Jumpers
Nokia 603 Display Problem Repair
Note: Every repairing solution posted here is tested by at least one member of our team. Use the information available here at Your Own Risk. We are not responsible if any harm comes to your device during the repairing process.
www.MobileRdx.com