Sony Xperia Neo MT15i Display Light Solution Ways
Here's the solution if it happens that you are troubleshooting Sony Ericsson Xperia Neo MT15i Display and or keypad
backlight problem
caused by wet damaged or anything else.
Sony Xperia MT15i Display Connecter Track Jumper
See Below Image: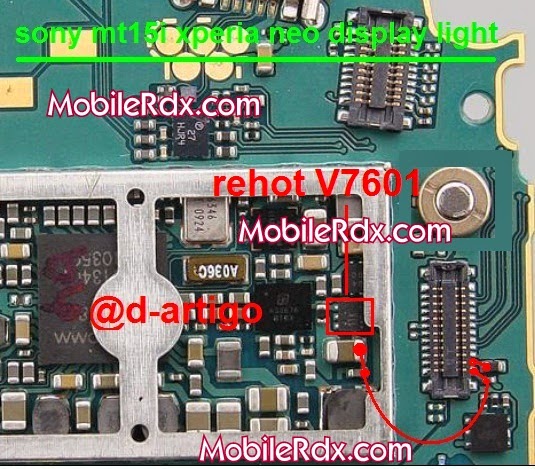 After removing the case of Sony Xperia Neo MT15i , the very first thing that you need to do is to unplug, clean and re-plug on-board display connector and check.
Clean display connector in the similar way you did on-board connector.
Now check your entire motherboard for any traces of water damage, in case you find moisture on any part of the board clean it with the help of cotton cloth. Besides that you can also use blow dryer for few seconds in order to completely eliminate moisture from your phone.
If the above mentioned steps doesn't work for you then re-solder on-board display connector pins, as sometimes the pins become dry solder
www.MobileRdx.com