Samsung GT-S5570I Touchscreen Ways Solution
This solution may help for hardware repair on
Samsung
GT-S5570I with not working touch screen problem. If the touch screen digitizer is broken or cracked of your
Samsung
S5570I, you may only need to replaced it with a new touch screen glass digitizer. Just look for
nokia
C7 disassembly guide to properly dismantle the phone.
This may help if the touch screen digitizer is not damaged or already been replaced but still it doesn't respond. Try to check out the solution below and check the highlighted components, it is the basic parts where to check or replaced.
Samsung S5570I Touch Not Working Problem
Samsung S5570I Touchscreen Problem Jumper Soluton Ways Repair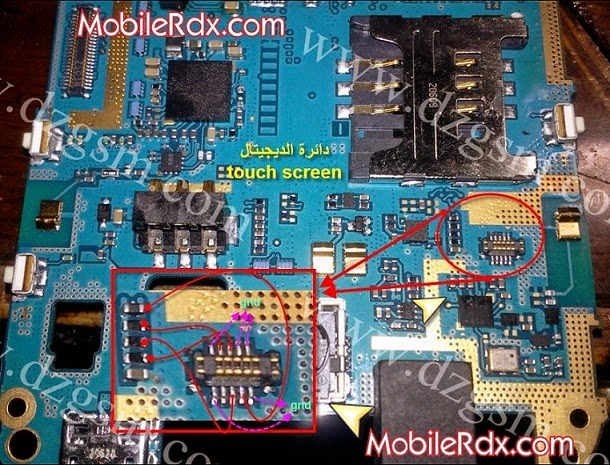 Samsung GT-S5570I Touch Ways Connecter Jumper
For blank display and touch screen problem, the very first thing that you need to do is to unplug and plug display strip and check.
If that doesn't work then check any other working LCD screen in order to verify whether the problem is in LCD or hardware.
Clean on board connector of display and touch strip.
Re-solder display on-board connector.
www.MobileRdx.com