Samsung I9003 No Earpiece Speaker Audio Sound Solution
Here's a solution that may help fix and repair hardware related damaged on Samsung SL GT-I9003 No Earpiece Speaker Audio Sound output. If the earpiece speaker already been check and seems to be working fine but still no audio sounds can be heard. you may need to check those certain components
indicated on the solution.
Samsung I9003 Ear Speaker Not Working Problem
Samsung GT-I9003 Earpiece Jmper Ways
Samsung I9003 Jumper Solution For Ear Speaker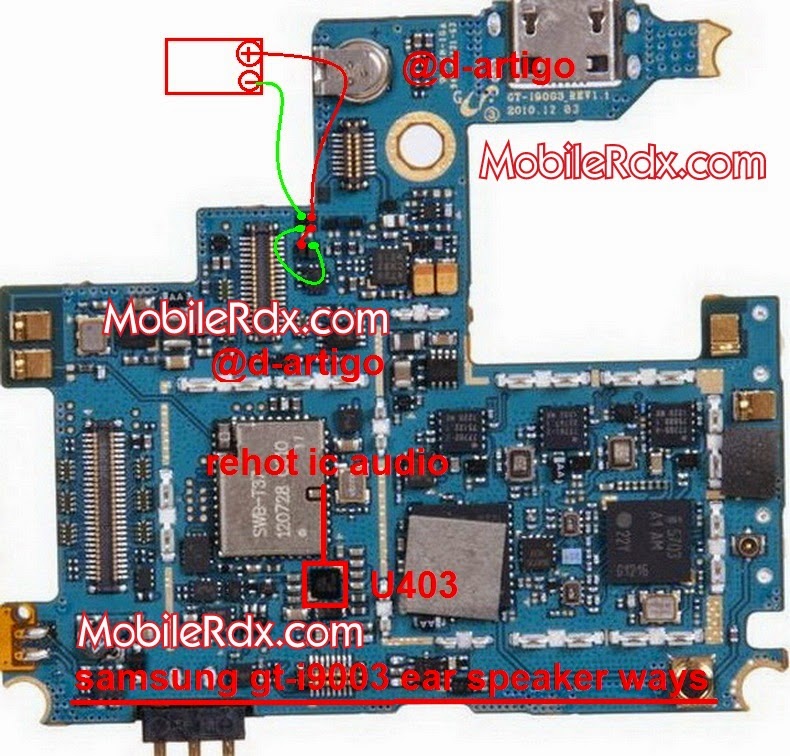 Samsung I9003 Speaker Jumper Ways
The two terminals of the speaker from the connector are connected to diode.
In order to troubleshoot, all you have to do is to follow the following steps:
Put jumper if it is faulty, as one of the reasons for this problem is that the phone heavily dropped or water damage.
Check the diode by using multi meter, if it is faulty then change it.
Repair hints:
1. Check/replace the ear speaker
2. Clean the speaker terminal pads
3. Check/replace the filter coil
4. Check/ replace the ESD filter or remove it,
www.MobileRdx.com