Samsung GT-I8700 Battery Connecter Ways Repair Problem
Samsung Omnia 7 GT-I8700 Baterry Connecter Ways Solution – Today we will discuss about the damage to the battery connector Samsung I8700 is rarely the case, but here we will try to discuss it in a simple way. Damage to the battery connector Samsung GT-I8700 can be in the causes for battery connector disold from its place dropped or misuse or corrosion due to exposure to water. To Overcome Here are simple steps to solve the problems on the battery connector Samsung GT-I8700.
The first step that must be done is to check the lines and resistors are bypassed as shown below, if there is a faulty resistor disold try to replace it.
The second step checks the path as shown below, if there is a path-breaking try to make jumpers carefully and thoroughly, because a small resistor is easily detached and lead to a break point.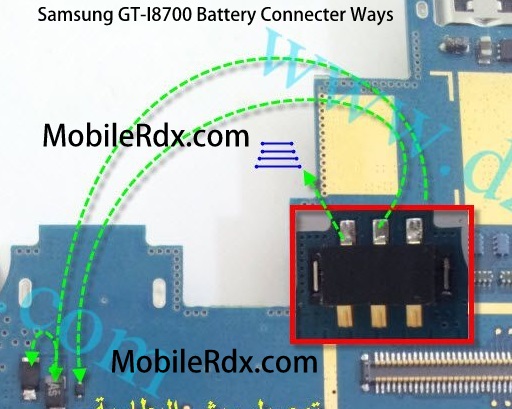 Samsung GT-I8700 Baterry Connecter Point Solution,Battery Connecter Ways Problem Jumper Repair Ways, Bsi Line Track Path.
Damage or repair errors caused by existing solutions in this blog are not the responsibility MobileRdx.com, we just want a little help you conduct phone improvements.