Nokia 225 Headset Not Working Problem Solution Ways
Nokia 225 Handsfree Ways Headphone Problem Jumper Solution
Here's a full solution that may help fix and repair Nokia 225 Headset Problem. This solution shows the entire connection of the Headset Jack line paths such as the headset earpiece speaker and headset microphone or mouthpiece.
If encountered having trouble with headset enhancement such as no earpiece sound or microphone audio signal can be heard on the device. You may first ensure that the headset being plug-in is still working, then proceed to check the headset jack assembly and see to it the it is cleaned and the pins is not misaligned.
Hardware Solution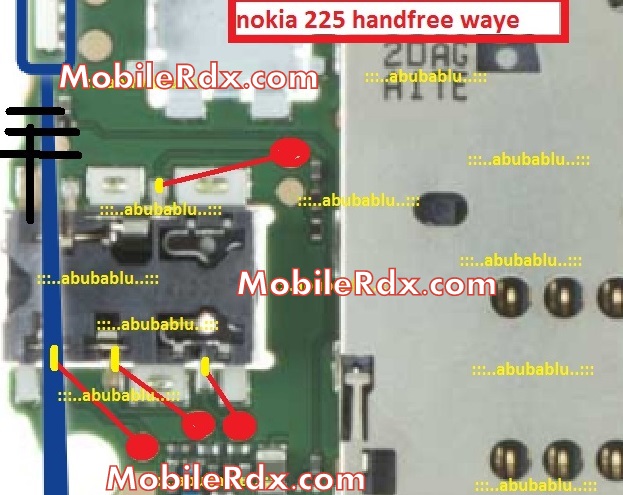 Refer the solution above for where to start check or particular spots in troubleshooting Nokia 225 headset enhancement problem on Nokia 225 PCB board.
The headset circuit on Nokia 225 PCB board used an EMI filtering chip in both mouthpiece and earpiece audio signals. The solution below also showed how to mend an alternative jumper solution if having trouble finding a new replacement spare of this said components.
Nokia 225 Headphone Connecter Ways, Handsfree Jumper, Repair Headphone Problem In Nokia 225 , headphone Jumper, Headset icon Activated problem, No Sound On Ringer.