Samsung SM-G925F Charging Problem Ways Solution
Samsung SM-G925F Charging Problem Ways Solution Jumper
In this article, there is solution to fix Charging Problem On Android. If your Samsung Galaxy S6 Edge G925F is taking enough to get fully charged, then this is the perfect article to follow. Samsung G925F is one of the greatest inventions of Samsung that came up with excellent features. But recently, many of the users have faced slow charging problem on Samsung Galaxy S6 Edge G925F handset.

Some of the other causes of the problem of the Samsung Galaxy S6 Edge G925F not charging issue may be:
The Smartphone is defective
Phone has a damaged battery
The connector is bent, broken or pushed
There is a temporary phone problem
The charging unit or the cable is defective
Hardware Solution: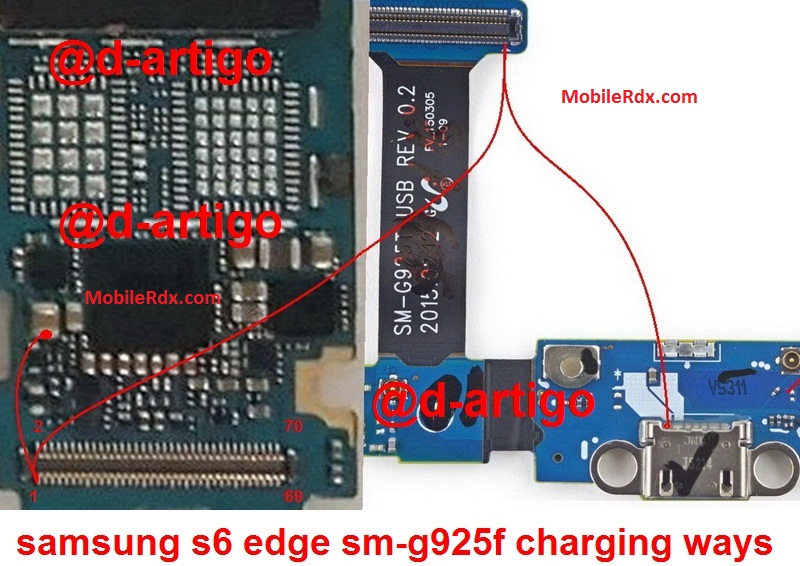 If you have damaged the Samsung SM-G925F USB charging connector prints, I have marked chatging connector jumper ways in the next diagram. Make jumpers from broken prints to their corresponding components and your phone will hopefully start charging again. Good Luck
Please Note that we will edit these solutions or add new ones if found in this page at any time in the future. So feel free to come back any time on this page to stay up to date.
If you have further questions please don't hesitate to leave a comment.
Note: Every repairing solution posted here is tested by at least one member of our team. Use the information available here at Your Own Risk. We are not responsible if any harm comes to your device during the repairing process.
Samsung Galaxy S6 Edge G925F Charging Solution Jumper Problem Ways No Charging Not Supported
Samsung SM-G925F,Charging,Charging Problem,Charging Solution,Charging Jumpers,Charging Ways