Download Octoplus FRP Tool V.1.7.0
Download Octopus FRP Tool V.1.7.0
Octoplus FRP Tool V.1.7.0 is out!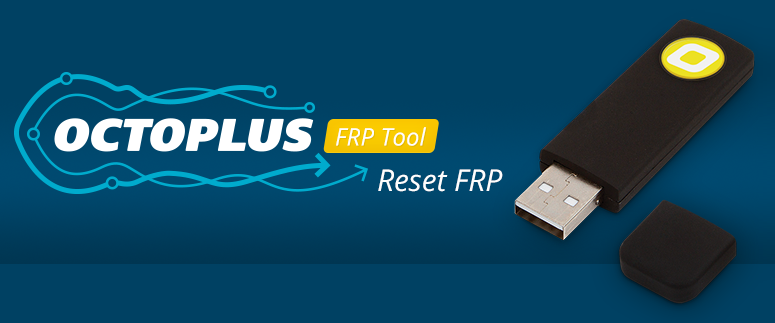 This update is dedicated to our great community Without your contributions, reports and ideas we wouldn't be able to create and evolve the product that meets your needs in every way. We highly appreciate your will to cooperate for our better understanding of your requirements. Thanks, folks!
Download Octoplus FRP Tool v.1.7.0 Setup!
More info and discussion are HERE
Download Octopus FRP Tool v.1.7.0
Octoplus FRP Tool v.1.7.0 Release Notes:
Added "Reset FRP" for Alcatel and Meizu phones via SAS (Secure Authentication Server):
Alcatel 3C (OT-5026D)
Meizu M2 (M578H)
Meizu M3 Note (L681H)
Meizu M3 Note (M681Q)
Meizu MX4 (M461)
Meizu MX5 (M575H)
Meizu MX6 (M685H)
Meizu C9 (M818H)
Meizu X8 (M852H)
Added "Reset FRP" for new Huawei MTK CPU based devices:
Huawei Y5 2018 (DRA-L21 V2)
Huawei Honor 7A (DUA-AL00)
Huawei Honor 7A (DUA-L22)
Huawei Honor 7A (DUA-TL00)
Vodafone Smart N8 (VFD610)
Added "Reset FRP" for the following devices:
2E E450 2018
4GOOD Light AT200 (thanks to Mr. Somon.gsm)
Ababra A8
ACE Clever 1
Acer Iconia One 10 (B3-A32)
Acer Liquid Zest (T07)
Advan i5C
Advan i5G
Advance HL5576
AG Zoom
AGM X2
Alba 5.7in
Alcatel OneTouch Idol 3 5.5 (OT-6045F)
Alcatel Pixi 4 (5) (OT-4060W)
Alcatel Pop 4 Plus (OT-5056I)
Aligator S6000 (thanks to Mr.Ryrzy)
Allview A6 Duo
Allview E3 Living
Allview P6 Energy Mini
Allview P6 Life
Allview P9 Energy Lite
Amgoo AM412
Amgoo AM527
ANS L50
Archos 101 Platinum 3G (AC101PL3G)
Archos 50 Power (AC50PO)
Archos 50 Saphir (AC50SA)
Archos 50e Helium (AC50EHE)
Archos 70 Xenon Color (AC70XEC)
Archos 80B Helium (AC80BHEV2)
Archos Core 55s (AC55CRS)
Ark Elf S8 (thanks to Mr.Usmanov Rustam)
Asanzo A1
Asanzo S2
Asanzo S3 Plus
Ashna Air M8
Asus ZenPad 3S 10 Z500M (P027) (thanks to Mr.Sioma)
Avvio Pro 450
Avvio Q503
Azumi Kirei A5Q Plus
Beeline A239
BGH Joy 303
Billow X101 Pro
Bitel B9401
Bitel B9505
Blackview P2
Blaupunkt SL Plus 02 (thanks to Mr.blinet)
Bling AR Neo
BLU A200
BLU Advance 5.5 HD
BLU Advance A7
BLU Energy Diamond
BLU Neo X Mini
BLU S570Q (Studio G Max)
BLU Studio M5 Plus
BLU Studio M6 LTE
BLU Studio One Plus
BLU Touchbook M7
BLU Vivo One Plus
Bluesky S909
Bmobile AX1015
Bmobile AX1045
Bmobile AX825
Bmobile AX830
Bmobile AX950
BQ 5030
BQ Balance (5206L)
BQ Brave (5008L)
BQ Fast (5515L)
BQ Space Lite (5202)
Brandcode B11
Brandt Bstar
Brandt Bstar Plus
Brondi 610 SZ
C5 Mobile Noa G1
C5 Mobile Noa X Power
Camfone Hero H5 Plus
Casper Via E2
Casper Via G1
Casper Via G1 Plus
Casper Via L8
Casper Via M3
Casper Via P2
CCIT T2
Celkon CliQ
CellAllure Cool Extreme
CellAllure Cool S2
Cherry Mobile Flare 4
Cherry Mobile Flare J1s
Cherry Mobile Flare J3s
Cherry Mobile Flare J5 Mini
Cherry Mobile Flare S4 Max LTE
Cherry Mobile Flare S5 Lite DTV
Cherry Mobile Omega HD 4
Cherry Mobile Omega HD 5
CityCall Life M2 Plus
CityCall Life Q
Condor Plume L3 Smart (SP-638)
Coolpad CP8676_I03
Coolpad Mega Y83 (E502)
Coolpad Note 3S (Y91-I00)
Cube U12GT (T12)
Cubot Power (thanks to Mr.khalidsuper)
Danew Konnect 504
Danew Konnect 605
Datsun D5000
Denver-Electronics TAQ-10G
DEXP Ixion ES355
DEXP Ixion M545
DEXP Ixion ML450
DEXP Z455
Digicom Bolt
Digiland DL1008M
Digma Optima Prime 5 3G
Digma Vox E502 4G
Digma Vox S513 4G (thanks to Mr.Faruxchik)
Ding Ding X10
DL Horizon H8
DL Horizon Selfie (thanks to Mr.marcelofigado)
Doogee BL12000
Doogee X9S
D-Tech LM-01
Echo Feeling
Echo Horizon M
EKO Omega Q55
Energizer Power Max (P550S)
Energy Sistem Energy Phone Max 2 Plus
Energy Sistem Energy Phone Pro 3
Ergo F501 Magic
E-tel Q25
Eurostar Blaze 3
Evercoss R6
Evertek E7114HG
Evertek EverGlory Plus
Evertek EverShine II
Evertek V5 Plus (thanks to Mr.chimed09)
Exceed EX10S4
F2 Mobile Piabella (F80)
FERO A4001 Plus
FERO A5000
FERO A5003
FERO Power
FERO Royale Y2 Lite
FIGO Orbit II
Fluo V2
Fly Cirrus 13 (FS518) (thanks to Mr.Faruxchik)
Fly Cirrus 4 (FS507)
Fly Life Ace
Fly Nimbus 10 (FS512)
Four Mobile Eco 2 (S61)
FPT X508
Freetel FTJ161B
Funker R402
General Mobile GM8 Go (thanks to Mr.adem)
Gigaset GS160
Gigaset GS170
Gini N8
Ginzzu RS95D
Ginzzu S5110
GoClever Quantum 4 550
GoMobile GO1003
Green Orange GO 55307
Haier Alpha (A1)
Haier CDP8TAB16SD
HighScreen Boost 3
HighScreen Easy F
HighScreen Easy XL
Hiking A18
Himax M22S
Hisense E10
HiSense F102
HiSense F23 Plus
HiSense Hi 5
Hisense S51
HOMTOM HT26
HOMTOM Zoji Z6 (Z6)
HOMTOM Zoji Z8 (Z8)
HOMTOM Zoji Z9 (Z9)
Hotwav M5i
Hotwav Venus R10
Huawei Y3 II (LUA-L01)
Huawei Y5 II (CUN-L33)
Hurricane Fuel (thanks to Mr.alamgarh)
Hurricane Ignite (thanks to Mr. farhankhan377)
Hyundai G25022K
Hyundai Koral 7M3X
Hyundai Titan LTE
Hyundai Ultra Active
Hyundai Ultra Dream
iBall Slide Dazzle i7
IBall Spirit X2
Ibrit AF51
i-Cherry C223
Iki KF5bless
IKU T2
IKU U1
iLA X
I-Life Itell K3500
InnJoo Halo 4 Mini LTE
InnJoo Halo LTE
InnJoo Halo X
InnJoo InnJoo 3
INOI 6 Lite
Intex Aqua 5.5 VR
Intex Aqua Jewel 2
Intex Aqua Lions X1 Plus
Intex Aqua Power 4
Intex Aqua Prime 3G
Intex Aqua Shine 4G
Intex Aqua Star 4G
Intex Lions 6
Invens D4
Invens Royal R5
IPRO I9509
IPRO More 5.0
IQ & T IFoo U200
Irbis TZ772
Irbis TZ963
Iris G7060
Iris G8020 (thanks to Mr. louka)
Iris Next P
Iris Next P Pro
Iris Next U
Itel A13
Itel A20
Itel A33
Itel S11 Pro
Itel S13 Pro
Itel W5001P
iVOOMi Me 4
Jinga Fresh 4G
Jinga Optim 4G
Jivi Opus S3
Jivi Xtreme XT309 Plus
KAAN A1
Kalley Element Q
Karbonn A1 Indian
Kempler & Strauss Kempler 8 Plus
Kiano Cavion Base 5.0
Kiano Elegance 5.0 Lite
Kimfly E1
Kimfly M12
Kimfly M5
Klipad V356B
K-Lite Navtech Touchy F2 (thanks to Mr.Bell666)
Konka SP3
Konrow Cool-K
Koolnee K1 Trio
Koolnee K3
Kruger & Matz Flow 4 Plus
Lanix Ilium Alpha 3
Lanix Ilium L1120
Lark Cumulus 6 HD
Lava A51 (thanks to Mr.apacheadmiral)
Lava A82
Lava X38
Leagoo Elite 1
Leagoo S9
Leagoo T1 Plus
Lenovo Tab 3 8 Plus (TB-8703X)
Lenovo Tab 8 (TB-8304F)
Leotec Pulsar (QI3G)
Lesia Note X
Logic L5.5
Logic L5D
Logic X5A
Logicom ID Bot 53 Plus
Logicom ID Bot 553
Logicom L-EGANT ONE-R
Logicom L-EMENT 505
LP Evora
LP Spectrum S2
LP Veyron
Macoox MC-X7 Mini
Majestic TAB 711 4G
Mango S5
Masstel N6
Masstel Tab 10 Plus
Masstel X6
Maximus D1 (thanks to Mr.khorsed_pabna)
Maxwest Astro X55
Maxwest Nitro 5N
Maze Speed SSB504R
Mecer Xpress Smartlife 8″ (M86Q9 3G)
Mediacom M-PPAB500
Mediacom M-PPxG551
Mediacom Phone Pad Duo (M-PPxG410)
Mediacom PhonePad Duo (M-PPxS510L)
Medion E691X
Micromax Bolt Juice (Q3551) (thanks to Mr.Faruxchik)
Micromax Bolt Warrior 2 (Luxo)
Micromax Bolt Warrior 2 (Q4202) (thanks to Mr.Faruxchik)
Micromax Canvas 5 (E481)
Micromax Canvas Curve (Q454)
Micromax Canvas Pace Mini (Q401)
Micromax Infinity N11 (N8216)
Mintt A1
MiONE R9s
Mirage 81S
Mls iQW503
Mls MX Plus (iQK700)
Mobell Nova i4
Mobell Nova P3
Mobell S37
Mobell Tab 10
Mobicel Neo
MobiWire Tala
Motorola Moto G5S / G5 Special Edition (XT1797) (thanks to Mr.john423281)
Motorola Moto G6 Play / Ashley (XT1922-4) (thanks to Mr.Dzomega)
MTC Smart Start 2 (thanks to Mr.djmurod86)
Multilaser M9 3G 2
Multilaser ML JI M7 3G Plus
Multilaser ML SO M9 3G
Multilaser MS45S
myPhone Brown 1 (thanks to Mr.Somon.gsm)
myPhone City
myPhone myTab10 (Hykker)
myPhone myX8
myPhone Prime 2
myPhone SmartView 7 3G
MyWigo MWG 579 Pro
Navon Supreme Pure
Nelson Mandela Freedom 5.5
Netsurfer 16M5HI105023
NGM E505 Plus SE
NGM You Color (E505)
NGM You Color (E506)
NOA H10
NOA H6 (thanks to Mr.Faruxchik)
NOA H9
Nomi Corsa 3 (C070030)
Nuu N5L
Nuu S6001L (G2)
NYX Mobile Rex
O.Phone Newton Edge
O.Phone Volta 4G
Onix S506
Oplus O+ Xfinit
Oppo F1f
Orange Dive 71
Orange Dive 73 (thanks to Mr.dragosgsm)
Oukitel K6000
Oukitel K8
Oukitel Link 50
Panasonic Eluga I3 Mega
Panasonic P55 Max
Panasonic T44 Lite
PcBox King
PCD PL5003
Philips S616
Philips X818
Piranha IQ Dreams
Polaroid A600
Polaroid Cosmo K2 (PSPCK20NA)
Polaroid Cosmo Q5s (P5525A)
Polaroid Cosmo Z (P5047A)
Polaroid Cosmo Z2 (PSPCZ20A0)
Polaroid Phantom 5 (PRO5023)
Polaroid S50 (thanks to Mr.austint0)
Posh Equal Pro LTE (L700)
Posh Kick Pro LTE (L520)
Posh Revel Max LTE (L551)
Positivo Twist 2018 (S511)
Prestigio Muze A7 (PSP7530 DUO) (thanks to Mr.Wolodya)
Prestigio Muze B3 (PSP3512 DUO)
Prestigio Muze G5 LTE (PSP5522 DUO)
Prestigio PMT3408 4G
Prestigio PMT3637_4G
Primux Ioxphone
Prince PC9
Proline Falcon X (M504)
Q.touch Q06
QBell QPhone 7.1
Qilive Q10S6IN3G
Qilive Q5S5IN4G
QMobile Fire (thanks to Mr.gsmpointhrp)
QMobile i2 Power
QMobile i7i Pro
QMobile M350
QMobile Vita
QMobile X32 Power
QMobile X700 PRO II
Quade Athos Pro (QA5616)
RCA RLTP5049D
Reach Mobile Allure Ultra
Sansui ETab M9021G
Sendtel Flare Lite
Sendtel MiCA
Senseit T300
Senwa LS5
Sico Express 3
Sico More 3
Sico Plus 2 4G
Sky 5.0LM
Sky Elite 4.5M
Sky Elite 5.0MP
Sky Elite 5.5 Octa
Sky Elite 5.5L Plus
Sky Elite 5T
Sky Elite M45
Sky Platinum 5.0
Sky Platinum 6.0 Plus
Sky Platinum M5
Smartron T.Phone P (T5211)
SPC Glow 10.1 3G (thanks to Mr.jseyedanas)
SPC S19
Starlight Rome ST
S-TELL M580 (thanks to Mr.Faruxchik)
S-TELL M655
STK Hero Lite
STK X2
Stylo Ultra
Sugar F7 Mini
Sunny SS4G9 Mira
Symphony i10 Plus (thanks to Mr.pintu_das)
Symphony i21 (thanks to Mr.pintu_das)
Symphony i95
Symphony SymTab 60 (thanks to Mr.hasanphone)
Symphony V65 (thanks to Mr.pintu_das)
Tambo TA-4
Tech 4U Prime
Teclast M20 4G
Tecno DP8D
Tecno DroiPad 10D (P904)
Tecno Phonepad 7 II (PP7E-DLA1)
Tecno R6S
Tele2 Urban
Texet TM-5005 (thanks to Mr.Somon.gsm)
Texet TM-8044
Timmy M23
Timovi Infinit Lite 2
Timovi Infinit X Cam
Timovi Yeah Go
Tinmo K3 (SM5503)
TP-Link Neffos Y50 (TP803A)
TrekStor SurfTab Breeze 10.1
Uhans K5000
Ulefone Armor 2S
Ulefone Armor X2
Ulefone Power 5
Ulefone S1 Pro
Ulefone U007
Ulefone U008 Pro
Ulefone X
UMI Plus
UMI Rome
Umidigi Crystal
Vertex Impress Lightning
Vertex Impress Phonic
Vertex Impress Ra
Vertex Impress U Too
Verykool Alpha (S5526)
Verykool Apollo Quattro (S5037)
Verykool Cyprus II (S6005)
Verykool KolorPad IV (T7445)
Verykool Orion Pro (S5205)
Vestel Venus V3 5045
Videocon Metal Pro 2 (V505920)
ViewSonic ViewPhone Q5
Vivax Point X2
Vivax Point X501
VKworld F1
Vodafone VFD502
Vonino Jax X
Vonino Xylo Q
Vsmart Joy Plus
Vsun Note
Walton GH7i
Walton Primo GH7i (thanks to Mr.Yahia_Sb)
Walton Primo S5 (thanks to Mr.pintu_das)
WE L8
WE R3
Weimei Force
Wiko Selfy 4G
Wiko Sugar F9
Wolder Wiam 34
Wolder WIAM 71
X-BO Super 9
Xgody X6
Xiaomi Mi 8 Lite (thanks to Mr.trt)
Xion XI-CEU7
X-TIGI A1
X-TIGI A1 Plus
X-TIGI Joy 7 Ace
X-TIGI P15
X-TIGI V15
X-TIGI V5
Xtouch A3 LTE
Xtouch A4
XTR X4U Plus
Yezz 5E3
Yezz Andy 4E (4E)
YU YU4711
YU Yureka Note (YU6000)
Yuho O2
Yuho Vast Plus
Zeki TBQG1084
ZEN Admire Sense Duo
Zopo Speed 7 Plus (ZP952)
ZTE Blade A410 (A410)
ZTE Blade A522 (A522) (thanks to Mr.Xaker2012)
ZTE Blade X5 (T630) (thanks to Mr.Somon.gsm)
ZTE Boost Max Plus (N9521)
ZTE Line Friends (K813)
ZTE Nos Novu II
Zuum Akus
Zuum Gravity
Zuum Luxo
Zuum Magno
Zuum Onix S
Improved "Reset FRP" operation for the following devices:
Hurricane Icon (thanks to Mr.CHAUDHRAY ARSHAD)
Itel Prime 4 (thanks to Mr.proglak)
Epik One K500 (thanks to Mr.motursa)
LiteTel LT4501 (thanks to Mr.Yahia_Sb)
All supported operations are described in details in Software manual («Help»/«Cable Manuals» button in Software).
Many new firmwares for Huawei and Samsung devices were added into Support Area.
Many new combination and board firmwares were added into Support Area.
New Samsung combination firmware was uploaded to the Support Area
All supported operations are described in details in Software manual ("Help" button in Software)
Dongle or Activation are already available for purchase from GsmServer Store.
Ask your local dealers!
Find out more at www.octoplusbox.com