Download Octoplus FRP Tool V.1.7.8
Download Octopus FRP Tool V.1.7.8
Octoplus FRP Tool V.1.7.8 is out!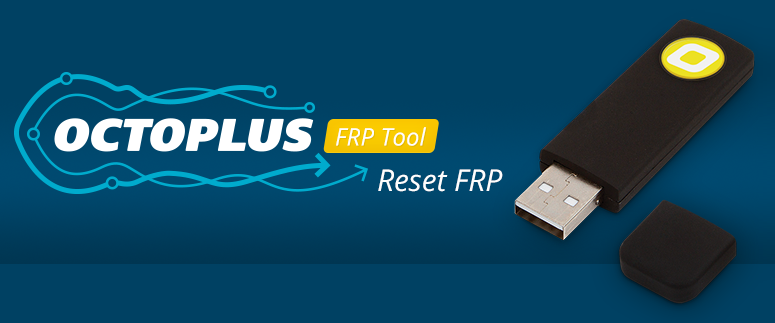 This update is dedicated to our great community Without your contributions, reports and ideas we wouldn't be able to create and evolve the product that meets your needs in every way. We highly appreciate your will to cooperate for our better understanding of your requirements. Thanks, folks!
Download Octoplus FRP Tool v.1.7.8 Setup!
More info and discussion are HERE
Download Octopus FRP Tool v.1.7.8
Octoplus FRP Tool v.1.7.8 Release Notes:
? Added Reset FRP, Reset Mi Account, Write Firmware operations via SAS for the following devices:
Xiaomi Mi Mix 2S (thanks to Mr. svetoslakis)
Xiaomi Mi Mix 3
Xiaomi Pocofone F1
Xiaomi Redmi 6
Xiaomi Redmi 6A
Xiaomi Redmi 7 – *(Reset Mi Account operation is not supported)
? Added Write Firmware operation for Xioami devices based on Qualcomm CPU.
Note: One operation for all Xiaomi devices, supported via SAS, costs 15 Octoplus Server Credits.
Note: It is strongly recommended to reset FRP during MI account reset operation if you are being prompted to do so. Otherwise, MI account reset will be unsuccessful.
In this case you will be charged 30 credits for both operations.
Note: Reset Mi Account operation is not supported for devices running on Android 9.x.
You can try to reflash the device with Android 8.x firmware (downgrade) at your own risk!
Note: This solution is temporary. Factory Data Reset and Wipe Data from recovery menu will return your device to locked state!
Please be very careful with Write Firmware option, operations are not refundable!
Reset Mi Account operation was disabled for Xiaomi Redmi Note 7 device, because there is no Android 8 firmware available.
Improved routines with loaders for Xiaomi Mi 8 Lite/ Redmi 6 Pro / Redmi Note 6 Pro devices.
Huawei Y3 2017 / Crow (CRO-L23)
INOI 3 (thanks to Mr. Sanginmurod.gsm)
Intex Elyt Dual (thanks to Mr. Despoiler)
Meizu M6 (thanks to Mr. bossko)
Smartec MiCA (thanks to Mr. Pastime_GSM)
Symphony i110 (thanks to Mr. Gsm_Flash Baba)
Tecno IA5 (thanks to Mr. Wasim007)
Ulefone Mix 2 (thanks to Mr. Johnnybazar)
AG Go-Tab Access
Alcatel OneTouch Pixi 4 (4.0) (OT-4034F)
Alcatel OneTouch Pop 3 (5.5) (OT-5025E)
AllCall Young
Allview P5 Energy
Allview X3 Soul Mini
Allview X4 Soul Infinity N
Amgoo AM535
Archos Alba 8″ (AC80CPLV2)
Asus ZenFone 5Q ZC600KL (X017D)
Beeline Smart 6
Billow X103 Pro
Blackview BV9500 Pro
Bluesky BSS50
Bmobile AX1075
Bmobile AX1077
Bmobile AX1091
Bmobile AX925
BQ Iron Max (5507L)
BQ Rich Max (5521L)
Bravis Cruiser (N1-550)
Bundy Sweet 6 Plus
Camfone Hero 12
Cavion Solid 4.5
Cherry Mobile Flare J5s
Cherry Mobile Iris
Cherry Mobile Omega Icon Lite 2
CloudFone Thrill Boost 2
Datsun D4000
Denver-Electronics SDQ-52001G
DEXP B145
DEXP B340
DEXP BL250
DEXP H170
DEXP S370
Dialog Blaze 5701A
Digma Hit Q401 3G
Digma Plane 7580S 4G
Digma Optima Prime 3 3G
DL Tablet DL 2810
Doopro P5 Pro
D-Tech DSP-01
Eurostar Onyx 2 Plus LTE
Evercoss S50D
F2 Mobile F80S Plus
Fero A4503
Fly FS502
Fly Nimbus 12 (FS510)
Fly Quantum
Four Mobile Sky 2 (S185)
Freetel Prior 4 (FT162D)
Geecoo G2
Gigaset GS185
Haier Leisure L7 (HM-N700-FL)
HiSense KS964
HOMTOM HT30Pro
Hotwav Magic Q8
Huawei GR3 (TAG-L21)
Huawei GR3 (TAG-L32)
Huawei P6 Pro
Hyundai A25563L
Hyundai Eternity H68
I.onik I545
IBall Slide Skye 03
Ibrit Mega 6 (MS61)
Inhon V6
InnJoo Fire 3 Air LTE
Intex Aqua Aura
Intex Aqua Lions 2
Irbis TZ720
ISWAG Mega
Jinga Smart Pro
Jivi Prime P444
Jivi Xtreme 3
Kodak Tablet 7
Land Rover Guophone X2 (X2 Max)
Land Rover T878
Lanix Ilium Alpha 950 XL
Lark Cumulus 5.5 HD
Lava Pixel V2
Lenovo Lenovo Vibe P1 (P1a41)
Lenovo Tab 4 7 (TB-7504X)
M4Tel M4 R2 Plus
Magnus Infinity G11
Manta Rocky 3 Pro (MSP95021)
Masstel X1
Maxwest Nitro 4 GO
Maxwest Ranger 5
MeanIT C2
Mediacom M-PPxX525U
Mediacom Phone Pad Duo G4 (M-PPAG4)
Mediacom Phone Pad Duo S532L (M-PPxS532L)
Mediacom Phone Pad Duo S532U (M-PPxS532U)
Mediacom Phone Pad Duo X532U (M-PPxX532U)
Micromax Canvas Juice 2 (Q392)
Micromax Infinity N12 (N8301)
MiONE C9
Mls Diamond 5.2 (iQ1850)
Mls iQA27X
Mls iQTab Novel 3G (iQ1810B)
Mobell S20
Mobiistar E Selfie
Mobiola MS50L1
Movic K2
MPhone 7s
MPhone 8
myPhone myX3
MyWigo MWG 549 Pro
Nasco Power Plus
NOA Sprint
Nomi Note X (I6030)
Nomi Shine (i506)
Nous NS5511
Oale Apex 3
ODYS Slade X55
Oplus O+ Ultra 3
OTOT S7
Own Smart 9
Panasonic Next
PcBox PCB-T103 (Curi Lite)
Philips Xenium (X598)
Polaroid BDL5048PR001
Polaroid Soho
Poptel P9000 Max
Positivo Twist Mini (S431)
Premio 185FT5050231
Premio 186HS1050232
Qilive Q10S53IN4G
Qilive Q10S5IN4G2
QMobile E1 Noir
QMobile Smart
Qubo Auri
Raylan Phoenix H1 Plus
RCA Q1
Rinno R505
RT Project Print
Sendtel C455
Sharp Pi (IF9007)
Sico Express 3 Max
Smart Clio L1
SMT_LW Crush X565
SPC L51
STG S1
Stream Mirror (S7)
Stream S9
Stylo X
Tecno IA5
Tecno N5
Tecno S1E Pro
Tele2 Maxi Plus
Telenor Smart Plus 2
Tesla L8.1
Tesla SP6.2
Tesla SP9.1
Tesla SP9.1 Lite
Timovi Infinit MX
Tinmo K2
Trio V51 DT
TurboX Aqua
Turkcell T70
Ulefone Power 3L
Vava X2
Versus M5 Plus LTE
Vertex Impress Lotus
Vexia FCS E2 CLM
Videocon Delite 21 (V504730)
Viumee EV5 X
VIWA P2
VIWA X6
Vodafone Smart Platinum 7 (VFD900)
Vonino Jax N
Walton Primo HM4 Plus
Walton Primo S6
Wiko Lenny
X-Age Ace
X-TIGI Joy 10 Pro
Yezz 5EQ
Yoomee L451E
Zopo F2 Color 5.5
Zopo Flash C (ZP530 Plus)
ZTE E8QL
ZTE Tempo (N9131)
ZTE Warp Elite (N9518)
Zuum Blaze
? Improved "Read Info" operation for all devices!
? Improved "Reset FRP" operation for the following devices:
Huawei Y5 2018 (DUA-L22) (thanks to Mr. maxieboy)
Nokia TA-1075
Tecno SA7S (thanks to Mr. CHAUDHRAY ARSHAD)
All supported operations are described in details in Software manual («Help»/«Cable Manuals» button in Software).
Many new firmwares for Huawei and Samsung devices were added into Support Area.
Many new combination and board firmwares were added into Support Area.
New Samsung combination firmware was uploaded to the Support Area
All supported operations are described in details in Software manual ("Help" button in Software)
Dongle or Activation are already available for purchase from GsmServer Store.
Ask your local dealers!
Find out more at www.octoplusbox.com