Samsung Galaxy A12 SM-A127F ISP PinOUT | Test Point Image
By using the Samsung Galaxy A12 SM-A127F EMMC ISP PinOUT, you can easily restore the stock ROM, bypass FRP lock, Remove MDM Passcode Lost Mode (Device Lock, No Downloads Mode, No Recovery), and Remove FRP Direct by Easy Jtag Plus Or UFI Box. In this guide, we will show you the tested and working image of the UFS pinout and test point for the Samsung Galaxy M21S M217F.
Remove Pattern Lock, Screen Lock, Finger Lock in Samsung Galaxy A12 with UFI Box you can easily solve with this method if you are a fresher technician or experienced technician in android software related if the error occurs of USB not recognized then your USB is not working. if a battery is not charged, your USB socket will not properly work and you will fail in this method. if any issues please write your questions in the comment box I will try my best to help you.
You can easily get the Samsung Galaxy A12 ISP Pinout connection of the Samsung SM-A127F by following the full guide below along with images. By using the ISP Pinout, you can bypass FRP lock or reset user data on your device via EasyJTAG Plus Box, or any other tool. Check out the below guide.
What is Samsung Galaxy A12 SM-A127F ISP Pinout?
ISP means "In-System Programming".In-System Programming (ISP) allows communication to take place with a target chip without the need to remove it. The main advantage of this method is the possibility to communicate with a target chip eMMC or eMCP bypassing the CPU. It brings higher speed for data extraction compared with JTAG but it requires great soldering skills. ISP applied to forensics, is the practice of connecting to an eMMC or eMCP flash memory chip for the purpose of downloading a device's complete memory contents.
Samsung Galaxy A12 SM-A127F ISP EMMC Pinout Image:
Hardware Process:
You need to take the rear case away from your phone. Next, unplug the motherboard from the existing battery, fingerprint sensor, and camera.
Unscrew the screws from the motherboard and take it out and put it in a safe place.
On your motherboard, locate the six eMMC pins. The pins are Dat 0, CLK, CMD, GND, VCC, and VCCQ. You will require to cut through the steel cover to reveal them.
Bring the UFI box and take the adapter out from it. You will see the exact same pins in the adapter I have mentioned in the previous step.
Solder the 4 pins: Dat0, CLK, CMD, and GND with jumpers between the motherboard and the adapter. Left the VCC and VCCQ for the USB to power them out.
Put the adapter inside the UFI box. Connect the box to the computer.
Connect the motherboard to the phone's battery. Then, put the USB cable on the phone and connect it to the computer.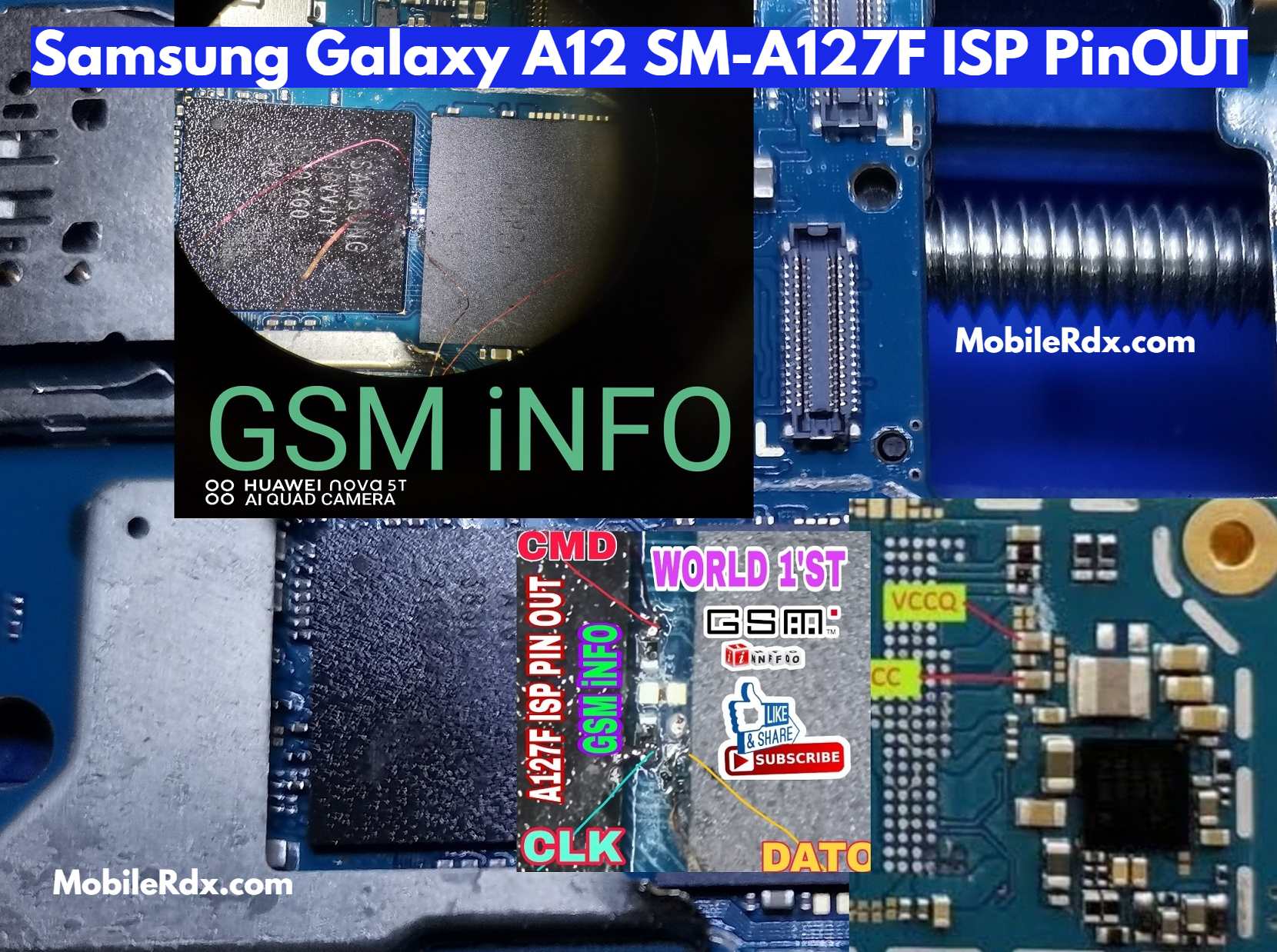 Samsung Galaxy A12 SM-A127F repair dead boot or any brand phone you need two dongles best in the market one is easy jtag plus and another is ufi box both are best in the market. those boxes help some phones after flashing the wrong firmware not show booting on-screen. this you need those boxes for boot repair. some brands, not possible lock remove like a pin, pattern, password, FRP, and MDM lock this really supports for remove locks.
Samsung Galaxy A12 Specs Overview
Samsung Galaxy A12 mobile was launched on 24th November 2020. The phone comes with a 6.50-inch touchscreen display with a resolution of 720×1600 pixels and an aspect ratio of 20:9. Samsung Galaxy A12 is powered by a 1.8GHz octa-core MediaTek Helio P35 (MT6765) processor that features 4 cores clocked at 1.8GHz and 4 cores clocked at 2.3GHz. It comes with 4GB of RAM. The Samsung Galaxy A12 runs Android 10 and is powered by a 5000mAh battery. The Samsung Galaxy A12 supports proprietary fast charging.
As far as the cameras are concerned, the Samsung Galaxy A12 on the rear packs a 48-megapixel primary camera with an f/2.0 aperture; a 5-megapixel camera with an f/2.2 aperture; a 2-megapixel camera with an f/2.4 aperture, and a 2-megapixel camera with an f/2.4 aperture. The rear camera setup has autofocus. It sports an 8-megapixel camera on the front for selfies with an f/2.2 aperture.
How to Use UFS Pinout using Easy JTag
Download the Easy Jtag
Find the PinOUT/Test Point on your device (refer image above to find the test point)
follow the software guideline. You can even use the Z3X Samsung Tool Pro