Samsung Gt-S7562 Touchscreen Problem Repair Ways Jumper
Here's the
Samsung
Gt-S7562 solution for not working touch screen problem. This solution ma help if you already tried calibrating the touch screen settings, updating or restoring the device flash firmware and replacing the touch sensitivity screen module but the problem still exists.The solution we provide is the solution for hardware troubleshooting on
Samsung
Galaxy S Duos S7562 touch screen problem. This will help for wet or water damaged that result to touch screen malfunction.
Just refer to the solution below and do some check up on the highlighted components.
Samsung Gt-S7562 Touch screen problem hardware solution
Samsung Gt-S7562 Touchscreen Ways
Try To Replace It With A New Lcd
First Check Its Touchscreen Working Voltage At Pin 2-4-6 And 8
Rehot Ucp 300
See Picture Below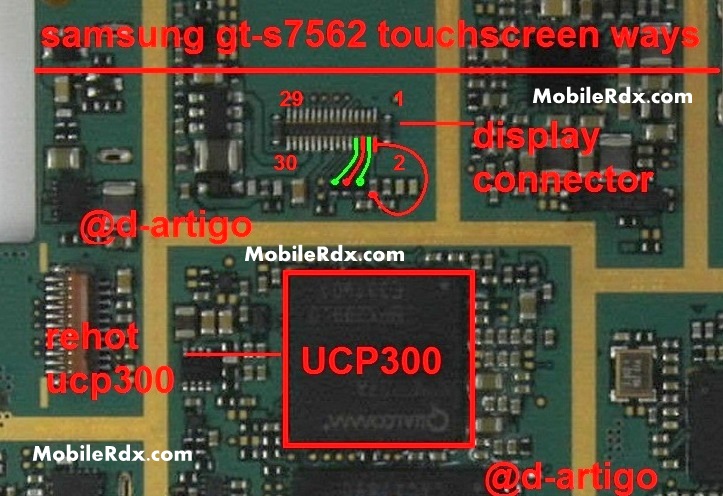 Or
Hints on troubleshooting touch screen failure on Samsung Gt-S7562:
This will work if you already tried replacing the touch screen module and restoring device firmware.
1.Check/clean the touch screen pin connector, re-solder it if necessary.
2. Check/read the touch screen supply voltage (VIO 1.8V) across to the filter coil.
If the voltage is missing check/replace the 0 ohms resistor, or apply a jumper if the line paths is open or cut.
3. Trace the RESET and PINT DAV line paths. apply a jumper if connection is open or cut.
4. Rework, re-ball or replace the Touch Controller chip.
Note:We are not affiliate with cell phone companies and other Manufacturers / Vendors .All trademarks are the property of the respective trademark owners.we just provide diagrams for study and repairing purpose.these images are uploaded by website visitors.so we will not be responsible for any loss or damage, including personal injury