Samsung GT-E2152I Ringer Speaker Problem Ways
Samsung GT-E2152I Handset Solution
Samsung E2152I ear speaker does not work
This article is for Samsung GT-E2152I Ear Speaker Troubleshooting. If your headset speaker phone stops working alias that used to ringtone or music Use this diagram to solve this problem.
samsun g e2152i ringer jumper ways, speaker solution, not working problem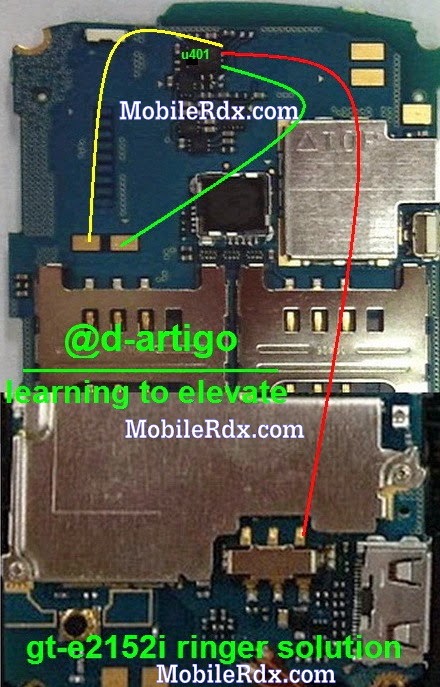 The picture above is a scheme on how to repair Samsung E2152I ringer buzzer. The following tricks :
Check the path of his ringer buzzer,
If both lines ring under normal circumstances then please replace the IC as shown above.
This scheme to fix : broken sound, no noise, troubletones, small voice, the voice interrupted. etc. Good luck with this trick.
I've marked the two points headphone bridge in this diagram, but before doing these bridges ensure that a faulty speaker is not causing this problem replace it with a new one.
Please note that we will edit these solutions or add new ones if they are on this page at any time in the future. So feel free to return at any time on this page to be current.
www.MobileRdx.com