Samsung I9082 Charging Solution Ways Usb Problem Jumper
This is the
Samsung
Grand I9082 Solution for Not charging problem or it shows no charging indication when the battery charger is plug-in. The solution below shows the charging connection line paths which can be used for easy troubleshooting or repair the
Samsung
GT-I9082 charging problem.
For Charger No Response or Indication problem, you may first check the charging pin connector for possible damaged, bended or lifted pin solder pads. The center pin holds the positive voltage of the charger and the side pin which is for the negative or ground lines.
Samsung GT-I9082 Usb Charging Problem Solution
Samsung Grand I9082 Charging Way Line Missing Jumper Solution.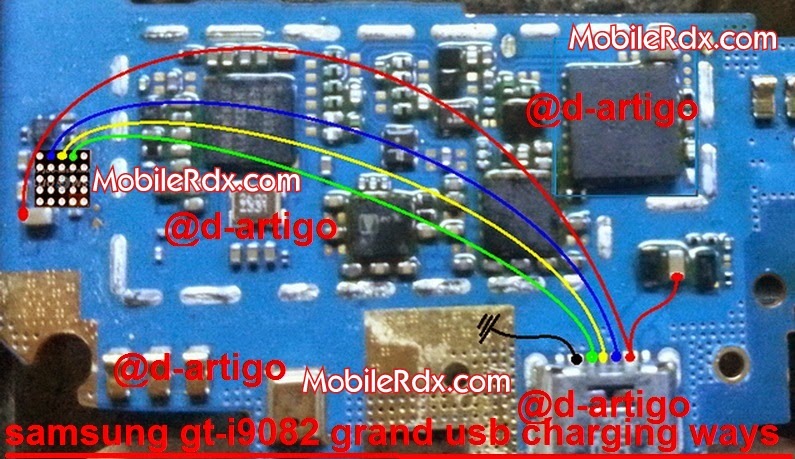 Samsung Galaxy Grand I9082 Full Charging Ways Jumper Solution,Samsung GT-I9082 Usb Not Detected,Charging No Response Ways Jumper Solution,Samsung I9082 Full Usb Charging Ways Damage Jumper Solution,Samsung Samsung I9082 Full Usb & Charging Ways Line Damage Jumper Solution,Samsung GT-I9082 Charging Ways Print Missing Jumper Solution,
How To Jumper Red Marked Shown On Diagram Solution,Samsung GT-I9082 Usb Ways Jumper Solution Step By Step Procedure Here,Share This Post If You Tested & Comment Me if You Need Any Others Solution I try to Give Your Solution,Please Visit Again Our Best Cellular Phone Repairing Online Store
www.MobileRdx.com