Collection Of All Qualcomm EMMC Programmer Files
Collection Of All Qualcomm EMMC Programmer Files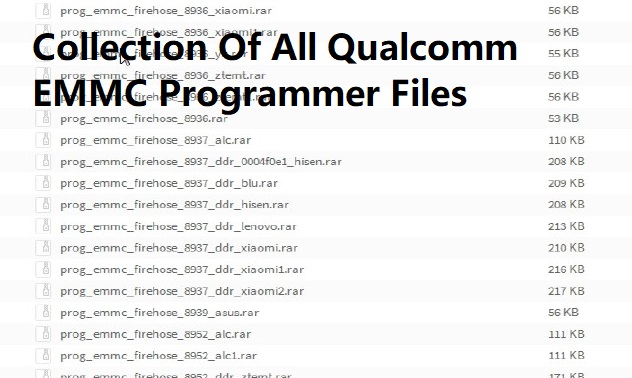 Today I will share you all Qualcomm EMMC Filehose Programmer file for Certain Devices.
emmc Programs File download for all Qualcomm Chipsets Devices. You can Download and Use this file for remove Screen lock on Qualcomm Supports Devices, and Bypass FRP Google account on all Qualcomm Devices..
For those whose QFIL-flashable firmware doesn't contain a programmer file, here's a collection to download from. You'll need a programmer file to backup and flash to a Qualcomm device. Its often named something like prog_*storage type*_firehose_*chipset*_*model name*.*extension* e.g prog_emmc_firehose_8909_alc1.mbn & prog_ufs_firehose_8996_ddr_zuk.elf
Emmc file for Qualcomm.
Program Emmc file for Qualcomm Devices.
Check below on provided lists, If you cannot find your Device Model name, Just comment me below on this Post and be patient while I check & look for a suitable emmc file for your devices.
Note: If you're not able to access the download link, then try again with a VPN service. Some countries/ISPs have blocked Mega.nz servers on their network. So users need to use a third party VPN service to access Mega.nz server.
Qualcomm EMMC Programmer Files
Important Notice
You should only download & use a programmer file for your chipset so its good you know or find out your phone's chipset / processor
If you encounter Sahara Fail error then try a different Programmer file
Qualcomm Programmer files are often device and chip specific so the files above aren't 100% guaranteed to work for you
Some tools like Miracle box, Infinity CM2, NCK Pro box etc have programmer files included so ensure to try those first before external sources like this