Samsung SM-B109E Only On With Charger Problem Repair Solution
Samsung SM-B109E Only On With Charger Problem Repair Solution
Problems:
Samsung B109E Only On With Charger
Samsung SM-B109E Set Not Powering On
Samsung B109E Keystone 3 Charging Only Problem
Samsung B109E Power Key Not Working
Samsung SM-B109E set is dead or turning on when charger plug in a general problem that the users of Samsung B109E keep on facing sometimes. Suddenly, the phone goes off and does not get turned on without connected to a charger, and the screen remains black. If you face the same problem, don't worry, because your phone is not dead, and you can quickly fix Samsung B109E not turning on issue.
Other reasons why the Samsung B109E Only On With Charger may be:
The Smartphone is defective
The phone has a damaged battery
The connector is bent, broken or pushed
There is a temporary phone problem
The charging unit or the cable is defective
Samsung B109E Only On With Charger Problem Solution: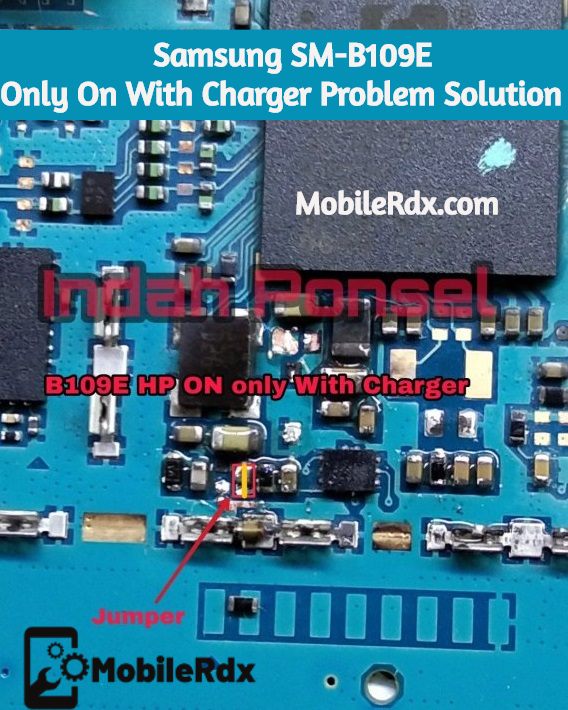 Check Charging connector for any kind of water damage, if it is then clean it and check.
Now re-solder charging connector pins and check.
Check charging voltage with the help of a multimeter. Place Negative terminal of the multimeter on ground and Positive on a charging pin (1st pin from your left-hand side).
Make sure that the voltage is between 5V to 5.5V, if it is not then replaced charging connector. (Charging Connector can be replaced by heating it from the opposite side of the board, while heating it, pull charging connector with the help of Tweezers).
Now remove metal sheet covering the charging section (It contains Charging IC and Components).
Check continuity between Fuse and Charging Pin (1st from your left-hand side). If there is no continuity, place jumper.
Also, check the following, and replace them if damaged:
Fuse
Capacitor
Coil
Heat charging IC, if it is faulty then replace it.
Now check charge at the battery terminals, if it is not standard voltage then re-solder or replace battery terminals.
If you have further Questions please leave a comment.
Keep in mind: – The every solution posted on Our website is well tested before by our specialist team, But still, we do not take any responsibility for any damage it may cause to your cell phone. Use these repairing solutions at your own Risk, Thank you.