Samsung Galaxy A20 A205F Charging Ways | Repair Not Charging Problem
In this tutorial, we will guide you on how to Repair the Samsung Galaxy A20 A205F Charging Ways, USB Not Working Problem, Slow or Not Charging Problem. Smartphones have become an indispensable part of our lives and there's no doubt that without a phone, you will end up bored most of the time.
When a premium device like the Samsung Galaxy A20 A205F won't charge, the Charging ways solution the problem can be with the hardware and its accessories, or it could be just a minor issue with the firmware. As an owner, you should do some troubleshooting procedures to determine what the issue is and hopefully be able to fix it.
Samsung Galaxy A20 – Specifications
Samsung Galaxy A20 is powered by the Exynos 7884 Octa-core (2×1.6 GHz Cortex-A73 + 6×1.35 GHz Cortex-A53) processor. The smartphone comes with a 6.4 inches Super AMOLED capacitive touchscreen and 720 x 1560 pixels resolution.The rear camera consists of a 13 MP (wide) AF + 5 MP (ultrawide) lenses. The front camera has a 8 MP sensor. The phone's sensors include Fingerprint (rear-mounted), accelerometer, gyro, proximity, and compass.
The smartphone is fueled by a Non-removable Li-Po 4000 mAh battery + Fast battery charging 15W. The phone runs on Android 9.0 (Pie) + One UI.
The Samsung Galaxy A20 comes in different colors like Black, Deep Blue, Red, Coral Orange, and Gold. It features 2.0, Type-C 1.0 reversible connector, and USB On-The-Go.
Hardware Reasons for Samsung Galaxy A20 A205F Charging Problem
There are four basic hardware-related reasons that your Samsung Galaxy A20 A205F could be charging slowly, and I will explain each of them in turn and in order of increasing probability. The issue could be:
There is dirt, dust, or debris lodged in the charging port.
The power adapter is damaged or faulty.
The USB cable is no longer working properly.
You are using the wrong power adapter for your phone, or a weak USB port.
Samsung Galaxy A20 A205F Charging Ways – Not Charging Problem Solution
In the below image we draw the Samsung Galaxy A20 A205F charging ways and its jumper check continuity using a multimeter if any track damage makes a jumper on the Samsung Galaxy A20 A205F motherboard.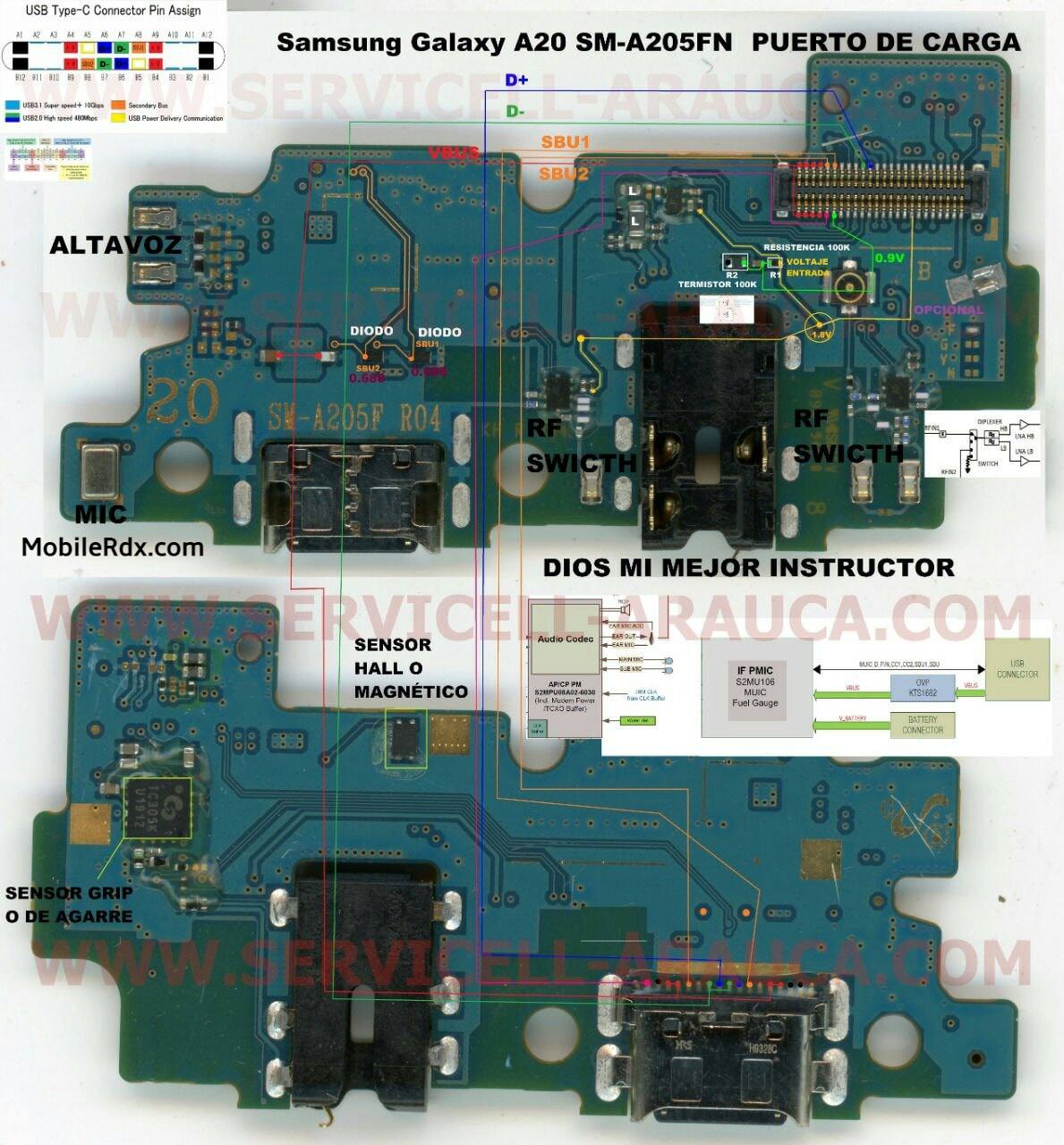 First, open the mobile
Then clean the section of the charging connector of the mobile motherboard
Then remove the old charging connector and add a new connector
Here Are Some Steps to Resolve Samsung Galaxy A20 A205F Charging Problem:
1. Check The Usb Charging Port
Cause no charging damage to Samsung Galaxy A20 can be caused by the destruction of the USB port corrosion.
Corrosion can be caused by water spills so that the pin of the port charging is damaged and the voltage transfer line is disconnected.
So that the line is disconnected and the voltage can not flow and drain and saved to the battery of the phone. Change the charging USB port immediately, if it is damaged and causes no charger problems on the phone.
2. Check Components And Lines
Perform a line check on the board if there is damage or disconnected lines, apply the way jumper on the PCB board. And also do an inspection of components that can cause no charging damage occurs, make changes to the component.
On the diagram image listed above, there is a component that has a malfunction of Samsung Galaxy A20 A205F no charging phone. Then for his best move immediately replace the defective component with a replacement component with good condition.
But if you do not have a replacement component, then it can do away jumper only on the component that suffered the damage.
By doing some of these ways can fix Samsung Galaxy A20 A205F not charging, make sure you do the damage inspection carefully. Use the Multimeter tool to measure conditions on each component and path on a damaged PCB board.
That's some way to fix Samsung Galaxy A20 A205F not charging because it's a problem of damage like this very often happens. For more information and new tips and tricks on the solution to the problem of other Android phones. Continue to visit this page. We will update it if there is a new update.