Xiaomi 12 Test Point | Reboot to EDL Mode 9008
Xiomi 12 Test Point | Reboot to EDL Mode 9008
This guide is useful for those who have the Xiaomi 12 (Cupid) smartphone. If you have encountered issues such as a bricked device, forgotten pattern lock, or unable to verify your Google account after a hard reset, it can help you bypass those issues quick.
To repair the latest Xiaomi models, a test point is required to boot the phone into EDL 9008 mode. Without using a test point, the phone cannot be repaired by default. Test points are used for various repairs on Xiaomi phones, such as FRP removal, MI Cloud removal, and flashing. On the latest phones, a test point is necessary to access the phone's security.
What is Xiaomi 12 Test Point and How to Use It to Reboot to EDL Mode 9008?
The Xiaomi 12 device has a test point that can be used to reboot the device into EDL Mode 9008. EDL Mode 9008 is also known as Emergency Download Mode and is a low-level boot mode that is used to perform various tasks such as unbricking and flashing the device.

To access the test point on the Xiaomi 12, first power off the device. Then, remove the back cover and locate the test point on the motherboard. It will be located in the lower left corner of the motherboard and will be a small metal circle with a "TP" label. In EDL Mode 9008, you will be able to access the device's internal memory, which is necessary for flashing and unbricking the device. You can also use this mode to access the device's bootloader, which is essential for unlocking the device and rooting it.
Xiaomi 12 Test Point – Boot Samsung A032F Into EDL Mode:
How To Find Xiaomi 12 Test Point.
Install "Xiaomi 12 Qualcomm USB Drivers" on a windows pc.
Remove the back panel of the device carefully. Make sure you are not going to damage any hardware component.
Now check the below screenshot and find the Xiaomi 12 Test points.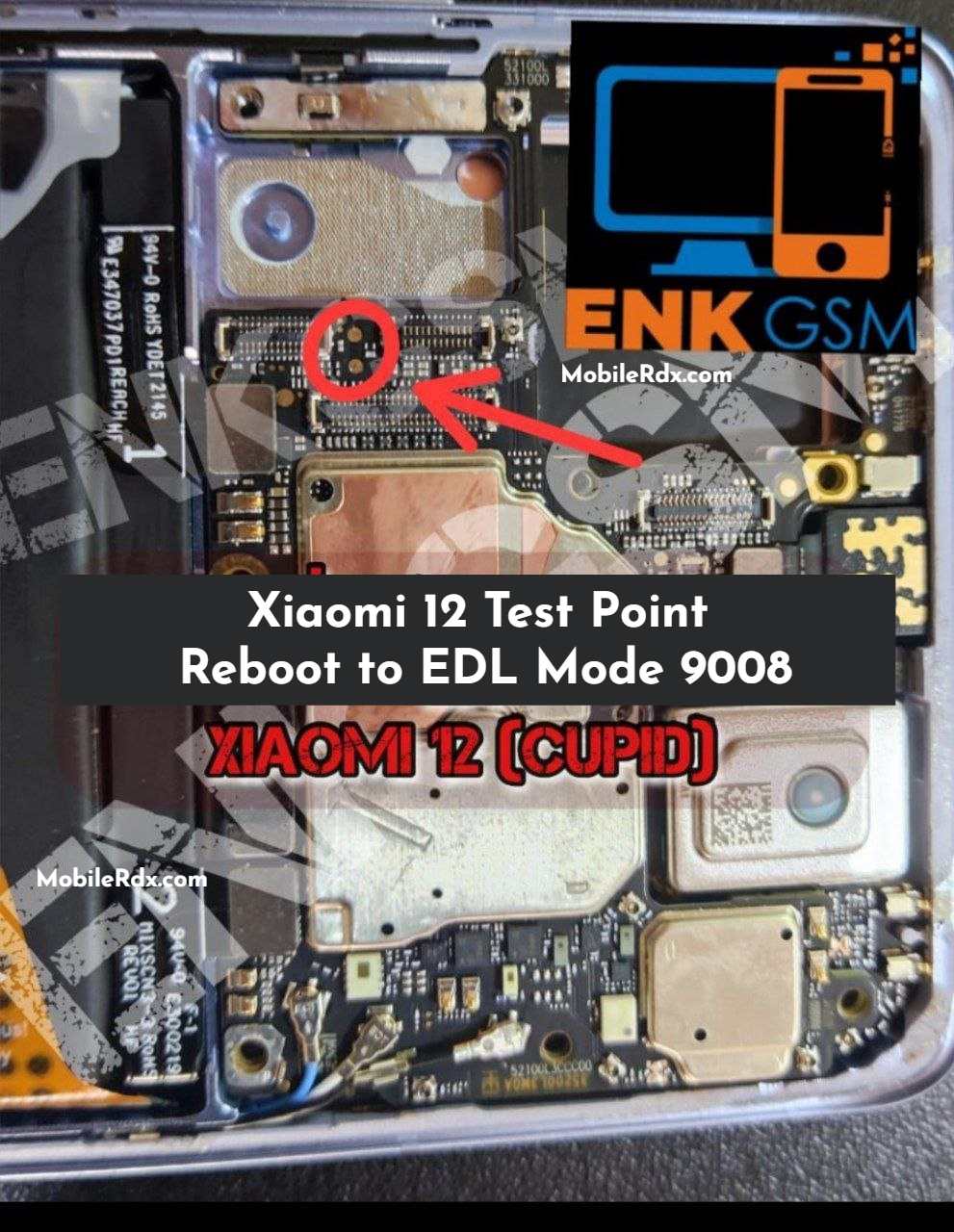 Remove the battery and Short bot points using any copper wire and attach a USB cable at the same time.
Now you are free to flash stock ROM on Xiaomi 12 mobile using any tool.
Uses Of Xiaomi 12 Test Point
Unbricking the device: If the device is bricked or stuck in a bootloop, the test point can be used to flash firmware and recover the device.
Bypassing FRP (Factory Reset Protection): If you forget your Google account login after a factory reset, you can use the test point to bypass the FRP and regain access to your device.
Removing Pattern lock: If you forget your pattern lock, you can use the test point to remove it and regain access to your device.
Flashing custom firmware: The test point can be used to flash custom firmware on the device, allowing you to customize and enhance the device's performance and features.
Debugging and testing: The test point can be used for debugging and testing the device's hardware and software, allowing developers and technicians to troubleshoot and fix issues.
How To Remove Xiaomi 12 Pattern Lock and FRP:
There are various methods and tools that can be used to remove the FRP (Factory Reset Protection) and pattern lock from a Xiaomi 12. Some of the tools that can be used include EFT Dongle, UMT Dongle, Octopus FRP Tool, and MRT Key Tool. Additionally, you can boot the device in emergency download mode by shorting the test point to the ground and connecting a USB cable. This can allow you to access the device and perform the necessary steps to remove the lock.
What is Screen Lock for Xiaomi 12:
Screen Lock is a privacy lock for android, many ways to enable screen locks on your device if screen lock enabled then the user need to enter the right password, Pattern, Pin lock to access devices again, screen lock means you can lock your device by pattern lock, password lock, pin lock, nowadays face locks and fingerprint lock also include in the screen locks menu,
Why do we need to Remove Screen Lock
If you forget the screen locks from your device and went to remove the pattern lock from your device then I am here to share with you the right method to Remove Pattern lock, Password lock, Pin locks. or If your device shows too many attempts to unlock pattern if you want to unlock then follow the below process very carefully.